Air Asia Penang
Air Asia Penang offers a good alternative for travel to major destinations throughout the SE Asia region.
If you book well in advance you can get some real flight bargains, and prices compare well to travel on the train or bus.
---
---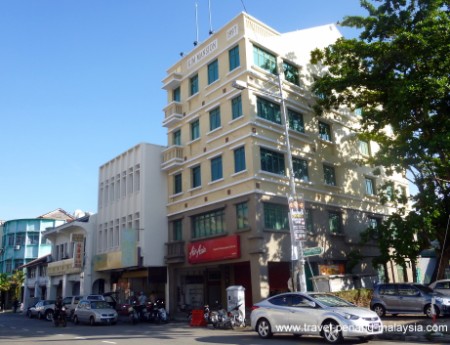 photo of the Air Asia office along Chulia Street in Penang
---
Air Asia Penang Flights

Air Asia fly to and from Penang (PEN) on the following routes :
Within Malaysia :
Penang - Johor Bahru (JHB)
Penang - Kota Kinabalu (BKI)
Penang - Kuala Lumpur (KUL)
Penang - Kuching (KCH)
Penang - Langkawi (LGK)
Penang - Miri (MYY)


China
Penang - Hong Kong (HKG)
Penang - Macau (MFM)


India
Penang - Chennai (MAA)


Indonesia
Penang - Jakarta (CGK)
Penang - Medan (MES)


Singapore
Penang - Singapore (SIN)


Thailand
Penang - Bangkok (DMK - Bangkok's Don Muang Airport)
Penang - Phuket (HKT) - No Longer any direct flights - You now have to go via KUL.

---
---
To make a booking :
You can visit the Air Asia office in Penang which is right in the centre of Georgetown on Chulia Street or even easier, you can book on-line at
Another good cheap option is to take a flight on Firefly to Penang
For information on travel options from Penang International Airport please visit our Penang Airport page.
If you want to fly to any other of their many destinations you can fly via Kuala Lumpur which is their main hub.
---
---