Canopy Walkway
Penang National Park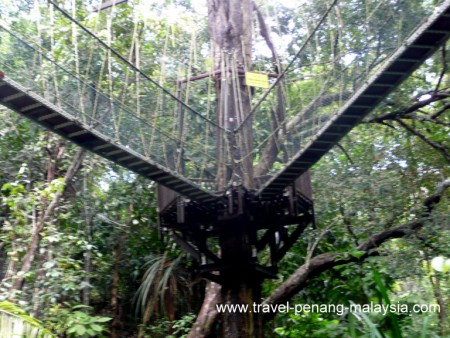 The Canopy Walkway Penang National Park (Taman Negara Pulau Pinang) is a 250 metre long walkway that takes you through the jungle tree tops of the National Park, up to 15 metres above the forest floor, giving you a birds-eye view over the rain forest and the river cascading below.
How to get to the Canopy Walkway
Located just over 1 km inside the Penang National Park it is a gentle 20 to 30 minutes walk along a paved path along the coastline to Sungai Tukun where you have to take the path on your left past the camp site for 5 minutes.
View Penang National Park Hiking Map
How much do tickets cost
Tickets prices are 5 RM per Adult, 3 RM for children.
Please note you have to buy your tickets for the Canopy Walkway at the registration office at the entrance to the park. You can not purchase them at the walkway - entrance to the National Park is free.
Canopy Walkway Opening Times :

The Canopy Walkway is open daily from 10am to 4pm - However, if it has been raining heavily they will not open the walkway.
On my last visit to the park in February 2012 the Canopy Walkway was closed due to fallen trees so if you are planning a trip to the National Park just to visit the Canopy Walkway. it is best to call ahead to see if it is open.
Penang National Park Telephone Numbers :
+604 8813530 or +604 8813500
For more information about the National Park in Penang Island, please visit our National Park page or you can view our Photos of the National Park
More places to visit in Penang National Park

Leave Canopy Walkway Penang for National Park
Main Page


Home Page