Armenian Street Heritage Hotel
Georgetown Penang Malaysia

The Armenian Street Heritage Hotel in Georgetown Penang is located just on the edge of the World Heritage City Enclave making visiting the sights of the city easy to do by foot.

---
---
The Hotel offers guests a total of 92 large rooms with en-suite bathrooms, at a very reasonable price for the location.
The hotel is actually part of the Tune Hotels group that are famous for their good value accommodation throughout Malaysia and beyond.
Although when they were renovating the building there where many signs with the Tune hotels logo on. Since opening, they have all disappeared.
I think it must be to do with the fact that this "Tune Hotel" is slightly more expensive than your regular Tune accommodation!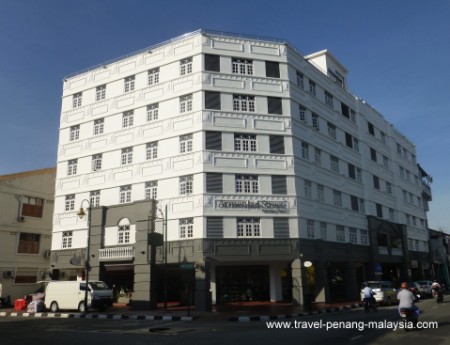 If you would like to stay at this accommodation in Georgetwon Penang, we recommend that you visit Tripadvisor so that you can read comments and reviews from previous guests that have stayed here, to see if it suits your needs.
You can also compare room rates to find the cheapest offers at the Armenian Street Heritage Penang.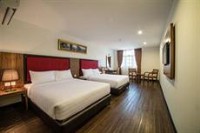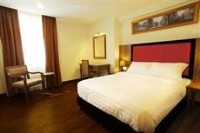 Compare & Save on your Penang stay!
Find the best places to stay and the cheapest Penang Hotel Deals at :
---
Location :

You would think by the name of the hotel that it is located on Armenian Street.
However, it is not!
It is however, just a stones throw away from the end of Armenian Street, on the corner of Carnarvon Street and Acheen Street.
So it should really be called the "Almost Armenian Street Heritage Hotel."

Address and Contact Details :

139, (Lebuh) Carnarvon Street
10200, Penang, Malaysia.
Contact Telephone number : 04-262 3888
Official Website :
www.armenianstheritagehotel.com/

Map of the Armenian Street Heritage Hotel Penang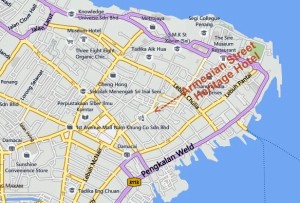 Around the Area :

The property offers a good location to explore the city by foot, with the sights of Armenian Street and all its Temples on your doorstep.
The Prangin Mall, 1st Avenue Mall and KOMTAR can be easily reached by foot by walking down Carnarvon Street for between 5 and 10 minutes, depending on which mall you want to go to.
Other tourist sights like Fort Cornwallis and the Esplanade can be reached in around 15 to 20 minutes.
If you do not want to walk, the "RapidPenang Freecat" free city bus has a bus stop nearby to the property, on Kampung Kolam, just a couple of minutes walk away.
This bus will take you around all the major sights of the old part of the city, doing a loop from the Jetty to KOMTAR bus station, every 15 minutes.

---

Guest Reviews
Or compare room rates for the best deals here >>>

---
More hotel accommodation in Georgetown that may interest you :

---