Chymes Hotel Penang Malaysia

The 3 star Chymes Hotel Penang is a small boutique hotel located in a bungalow, set in a quiet residential area in Tanjung Bungah beach, featuring only 6 large individually themed rooms.
If you are looking for somewhere slightly different to stay while on your travels to the island and want to get away from the standard boring chain hotels, this lovely little accommodation may be for you.
---
---
Unlike most accommodation, there is no lobby here, just a relaxing lounge area with large sofas and chairs, where you can watch a bit of TV, read a book or check you e-mails and surf online with free internet access.
More like a comfortable home than a hotel!
There is no restaurant in this small hotel, but you can enjoy breakfast in the garden and you will find restaurants and hawker food stalls within a few minutes walk of the bungalow.
---

Guest Reviews
Or compare room rates for the best deals here >>>

---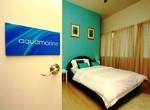 ---
The Rooms at the Chymes Hotel Tanjung Bungah

As already mentioned, there are only six room available at this property and each are unique in their design and furnishing.
All rooms are individually named, some are suitable for couples, while other larger units are more suitable for families.
The Rooms are named :
Aquamarine, Chocolat, Morning Dew, Red Chamber, The Studio and Vanilla Black.
Check out the link to their website below for more information and photos.
You can also see if its cheaper booking direct or by comparing room prices from Tripadvisor by clicking the link below.
or you can just read reviews of previous guests who have stayed here.

If you would like to stay at this boutique hotel in Penang, you can :
Address & Contact Telephone numbers for Chymes Hotel Penang : Tanjung Bungah Beach.
547-K Jalan Wee Hein Tze,
Tanjung Bungah, 11200 Penang, Malaysia
Telephone Number : +(604) 890 9088
Fax: +(604) 890 3088
Email: stay@chymeshotel.com
Official Website : www.chymeshotel.com
For more hotels and resorts in this beach area of Penang Island you can visit our :
Hotels in the Tanjung Bungah Beach area page here >>

If you are interested in staying near the beach in Penang, we recommend you take a look at the hotels in Batu Ferringhi, as the beach here is nicer and there are many more types of accommodation to choose from to fit your budget :
Visit our Batu Ferringhi Beach Hotels page here>>

---