Copthorne Orchid Hotel Penang
Tanjung Bungah Beach

The Copthorne Orchid Hotel Penang is a 4 star ocean front hotel in Tanjung Bungah Beach on the Northern coastline of Penang Island.
Although Tanjung Bungah does not offer the best beach on the island, it is the closest beach to George Town and all of it's colonial charm and tourist sights.
So, staying here, you get the best of both worlds.
The beach and cool sea breezes, while the city attractions can easily be reached by a fairly short bus, or taxi ride.
If you are interested in booking a room at this hotel you can :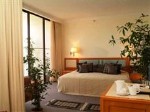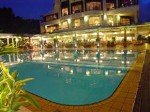 ---
Accommodations :

The hotel offers 318 guest rooms, all of which have their own private balcony where you can enjoy fine views out over the coastline and sea.
Rooms on offer come in either Standard, Superior and Deluxe, or you can choose from a range of spacious and luxurious suites.
All accommodation has individual air-conditioning, free WIFI, a TV with satellite channels, small fridge, free tea and coffee making facilities and comes with either twin or a King sized bed.

Dining :
Terrace Bay Restaurant - overlooking the pool serving local and international cuisine.
Open 24 hours a day.
Hu Ji Chinese Restaurant - only opens at the weekends and public holidays for lunch between 12 and 2.30pm.

---
Location : on Tanjung Bungah Beach which is about 10 km (6 miles) from the centre of George Town.
Right in front of the hotel you will find the Penang Toy Museum.

For getting into town to see the sights, bus 101 runs from early morning to late at night, departing every 10 minutes or so during the peak hours. It should take less than 30 minutes to get to the old part of the city, depending on traffic!
You can also get to the Gurney drive area on the same bus in around 10 minutes.
The same bus travelling in the other direction will take you to the beaches around Batu Ferringhi, then on to Teluk Bahang and the National Park.

---

Guest Reviews
Want to find the best deals for hotels in Penang?

Compare room prices to find the cheapest rates here >>

---
Copthorne Orchid Hotel Penang Contact Numbers and Address :

Jalan Tanjung Bungah, Penang, Malaysia 11200
Telephone Number : +604 892 3333
Fax : +604 892 3303
Email Address : [email protected]
Official Website :
https://www.millenniumhotels.com/en/penang/copthorne-orchid-hotel-penang/
Hotels near to the Copthorne Orchid hotel include the Flamingo by the Beach- Paradise Sandy Beach and the small boutique Chymes Hotel

---
More Beach Hotels in Tanjung Bungah