Flamingo by the Beach Hotel
Tanjung Bungah Penang

The 4 star Flamingo by the Beach Hotel (formerly known as the Crown Jewel Hotel Penang) is a beach-front hotel in Tanjung Bungah beach in the north of Penang Island.
Tanjung Bungah is located a few kilometres past the popular upmarket area of Gurney Drive in Georgetown and has a pleasant beach, but the water quality here is not that good, so most people stay by the hotels lovely swimming pool, rather then head down to the beach.
---
---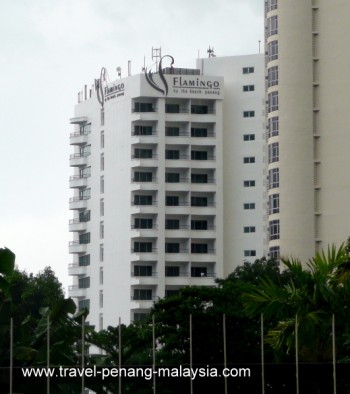 If you are interested in staying at this beach hotel in Tanjung Bungah, we recommend that you :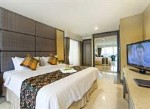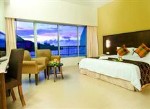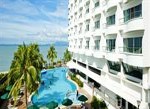 ---
Regular buses run along the main road just in front of the property every 10 minutes or so, to and from the city to see all the tourist sights and take between 20 and 30 minutes to get into the old part of town.
You can also catch a bus going in the other direction out to the beaches around Batu Ferringhi and the National Park.
Or you can use the hotels own shuttle bus service if it is more convenient for you.

Accommodations :

The hotel offers a total of 280 guest rooms ranging from Deluxe rooms, to 2 and 3 bedroom suites.
All rooms enjoy their own private balcony, with lovely views of either the lush green hills of Penang Island or the sea.
Guest rooms come equipped with modern, luxury furnishing and free internet access, which is available throughout the hotel property.

Facilities :

Along with the hotels outdoors swimming pool, guest can enjoy a workout in the gym or relax with a massage in the hotels own spa or outdoor Jacuzzi.
For the children there is a Kids Club and Kids Corner just next to the pool.
The hotel has its own restaurant and it is also just a short walk into the main area of town where there is a good choice of dining options to suit both your tastes and budget.

---

Guest Reviews
Or compare room rates for the best deals here >>>

---
Flamingo by the Beach Hotel Penang Contact Numbers and Address :

Jalan Tanjung Bungah
11200 Tanjung Bungah, Penang Island, Malaysia
Telephone Number : (604) 8927 111
Fax: (604) 8904 777
Email: generalenquiries@flamingo.com.my
Official Website :
http://penang.flamingo.com.my/
Nearby hotels include the boutique hotel, Chymes Boutique Hotel and the luxury beach resorts of Paradise Sandy Beach and the Copthorne Orchid.

---