Hotel Sentral Penang
George Town
The 3 star Hotel Sentral Penang is located along Lorong Kinta just off of Macalister Road and close to the central shopping area of KOMTAR in George Town (which is the tall cylindrical building you can see behind the hotel in the photo below).
For those of you looking for a new modern hotel in Penang close to the city's shopping area, this property might be for you, as it is a nice recently built, clean accommodation, with a good location right in the centre of the city.

---
---
If you are interested in staying at the Sentral you can :
The hotel offers a total of 137 rooms, all with modern decoration and in-room facilities, such as a mini fridge, tea and coffee making facilities, a room safe, LCD flat-screen TV's with Astro channels.
The rooms also come equipped with free WIFI internet.

Compare & Save on your Penang stay!
Find the best places to stay and the cheapest Penang Hotel Deals at :
---
More accommodation close to the Hotel Sentral Penang you may be interested in :

To see all the accommodation options around Macalister Road click here>>

---
Dining :
The hotel has the Nu Orient Coffee House which serves both international and local food for breakfast, lunch and dinner.
Opening hours : 07.00 - 22.00
Guests staying here will also find a wide choice of dining around the property, with the New Lane Hawker Centre just a couple of minutes walk away, as well as plenty of restaurants in this area of town along Macalister Rd or in the nearby shopping malls.

---
Street food vendors along in New Lane (Larong Baru) is a great place to taste some of Penang's famous food. You can find New Lane just a few minutes walk away from the Hotel Sentral in Georgetown, across Macalister Rd.

---
Location :

The hotel is close to the busy area of Macalister Road which is on your left as you leave the property, just a minutes walk up the road and next door to the Heliconia Hotel.
The Hotel Sentral is also within walking distance of all the major shopping malls in this area.
Times Square is close by, just cross over Macalister Road and walk down past the Sunway Hotel.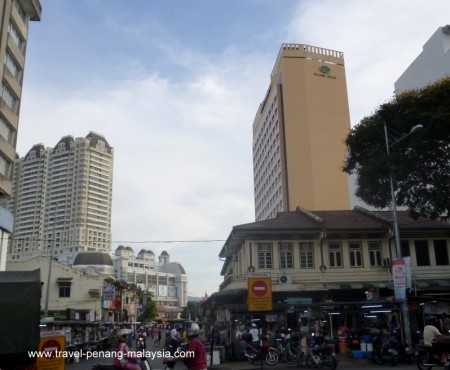 Photo of Times Square and the Sunway Hotel from the end of Lorong Kinta, along Lorong Baru (New Lane).

---
The shopping malls of KOMTAR, Prangin Mall and 1st Avenue, are an easy 5 -10 minutes walk away. They are on your left as you enter Macalister Road.
---

Guest Reviews
Or compare room rates for the best deals here >>>

---
Address and Contact Telephone Numbers for the Hotel Sentral Penang :
No 12, Lorong Kinta,
George Town, Penang, Malaysia 10400

Telephone number : +604-218 1111
Fax number : +604-218 1188

Official Website :
www.hotelsentralgeorgetown.com.my
---