Krystal Suites Penang
A 3 star business class apartment hotel in Penang, the Krystal Suites Penang is located near Penang International Airport (PEN) in Krystal Point Corporate Park.
This apartment style hotel offers spacious accommodation in 42 one bedroom suites and 44 two bedroom suites, which can sleep up to a maximum of 8 persons (6 adults, plus 2 children).
Each apartment comes with their own kitchenette and is ideal if you are visiting the island on a business trip and for longer stays, as the property offers larger than average accommodation than you would find at a normal hotel.
---
---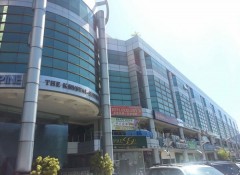 Photo of the Krystal Suites Hotel Penang
If you are interested in staying at this 3 star apartment hotel in Bayan Lepas Penang, you can :
Guest Room
Guest Room
Swimming Pool
---
Accommodation :
One Bedroom Suites offer a separate bedroom and living area with a King sized bed.

Two Bedroom Suites have the same as above, but with an extra bedroom fitted with two single beds.
Each apartment has its own kitchenette with microwave oven, coffee and tea making facilities, a mini fridge, separate dining area and lounge with TV (ASTRO Satellite Channels) and a study table.
Free WiFi internet access is available in the guest rooms and in all public areas of the property.

Facilities :

The property has an outdoors swimming pool as well as a fully equipped gym for your daily workout.

Location :

Krystal Point Corporate Park - Close to Penang International Airport (PEN) which can be reached by car in less than 10 minutes (around 2Km).
If you don't have your own transport, this is not the best location to stay at.

Compare & Save on your Penang stay!
Find the best places to stay and the cheapest Penang Hotel Deals at :
---

Guest Reviews
Or compare room rates for the best deals here >>>

---
Krystal Suites Penang Address :
Address & Contact Telephone numbers
Krystal Point Corporate Park,
Jalan Tun Dr. Awang,
11900 Bayan Lepas, Penang, Malaysia.
Telephone Number : +(604) 613 3333
Fax Number : +(604) 613 3338/2
Email Address : enquiry@thekrystalsuites.com
---
More popular hotels in the Bayan Lepas area of Penang you may be interested in staying at :

For more hotels close to the airport in Bayan Lepas click here>>>
To see our list of the best 3 star hotels to stay in while in George Town Penang click here >>

---
Back to the the list of Hotels and Resorts in Penang >>

---