St Georges Church Penang
St Georges Church Penang (The Parish of Saint George the Martyr) is the oldest Anglican Church in South East Asia and was constructed between 1817 and 1818 under the supervision of Captain Robert Smith of the Madras Engineers and formally consecrated on 11th May 1819 by the Bishop of Calcutta, the Rt Rev Thomas F Middleton.
During World War II the church was badly damaged by one of the many Japanese air raids on Penang Island and then looted of nearly all its contents, so that today, the only original artefacts left are the Bishops Chair and the Baptism Font.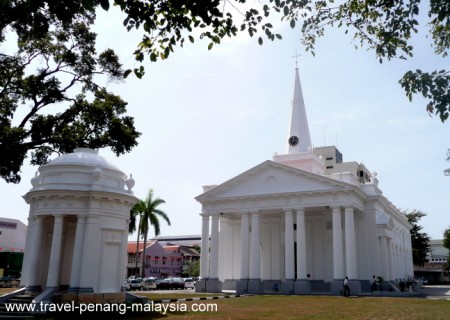 Photo of the front of St Georges Church Penang - George Town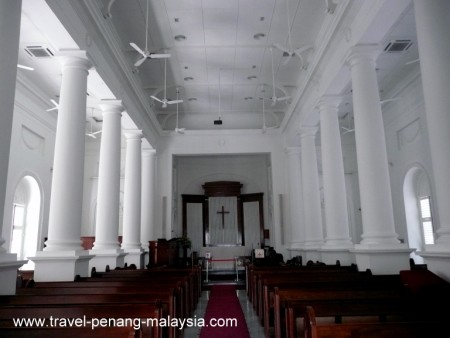 Inside St George's
St George's was awarded National Heritage Status in 2007 and since then has undergone a full restoration and is now open again to the public, who can now visit the inside the church at the following times :
Visitor Opening Hours :
Monday to Thursday : 10.00 am to 12.00pm and 2.30 pm to 4.30 pm
Friday : 2.30 pm to 4.30 pm
Saturday : 10.00 am to 12.00pm
Closed on public holidays

The Church is also open to the public who wish to attend Church Services on -
Sundays : 8.30 am and 10.30 am
Wednesdays : 9.30 am
Entrance Fee : Free
Address and Contact Details :
1 Lebuh Farquhar, 10200 Penang, Malaysia
Telephone Number : 604 261 2739
Email Address : stgeopg@yahoo.com
How to get to St Georges Church Penang

Location :
St George's is within walking distance to most of the hotels in the old part of the city, just a couple of minutes walk around the from the Penang Esplanade and just down the road from the Penang Museum.
It is also next to a RapidPenang bus stop as well as being on the route of the Free bus service that travels around the old part of the city between the Jetty and KOMTAR.
To check bus times and routes around Penang island please visit :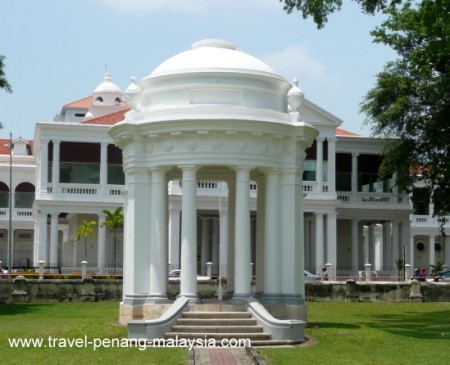 Francis Light Memorial in front of the church.
The Francis Light Memorial located in the front of Saint George's was built to commemorate the founding of Penang in 1786 by Captain Francis Light. 

You can visit the grave of Francis Light, along with many other founding members of British Colonial Penang, in the Old British Colonial cemetery a 5 to 10 minute walk away from the church

Francis Light Memorial inscription
---
---
More places to visit in George Town Penang :

---