Wat Chayamangkalaram
(Thai Temple of the Reclining Buddha Penang)

Wat Chayamangkalaram is a Thai Temple in Penang famous for its large gold plated Reclining Buddha (not a Sleeping Buddha), which at 33 metres, is one of the largest in the world - and not too easy to get the whole length in a photograph, as you can see below.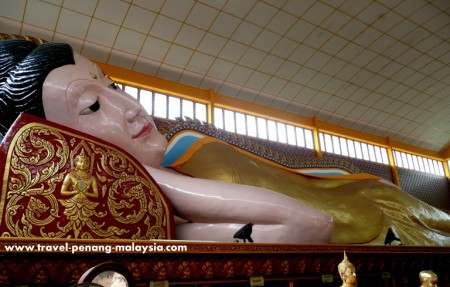 Photo of the Reclining Buddha with eyes open - so not a Sleeping Buddha as many people call it.
---
---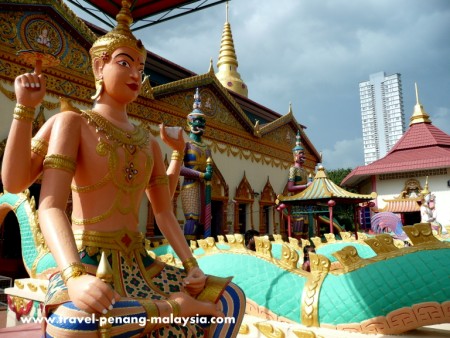 Photo of the front of Wat Chayamangkalaram in Penang
The temple dates back to 1845 and is built on land given to the Thai people by Queen Victoria of Great Britain during their rule of the island.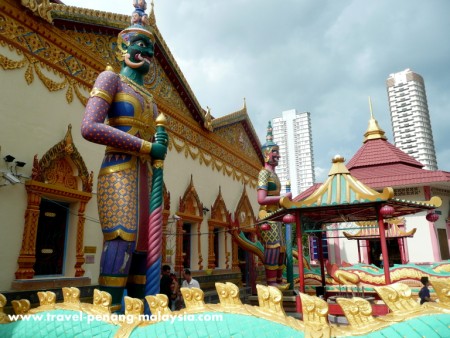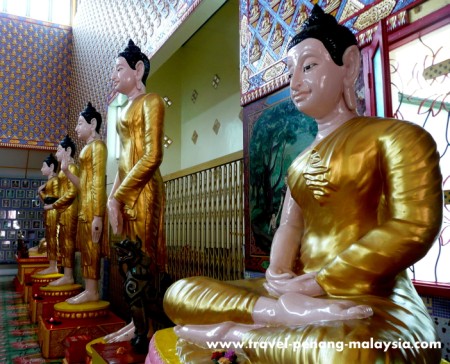 Penang Thai Temple Opening Hours : The Temple grounds are open daily from 07:00 - 18:00.
Reclining Buddha Penang Opening Hours : The main hall with the Reclining Buddha is open daily from 08:00 - 17:00.
Entrance Fee : Admission to the Thai Temple and Reclining Buddha is free.
Location / Address :
Located at 17 Lorong Burma a short walk from Gurney Drive.
Opposite this temple you will find the Burmese Temple, Dhammikarama Temple which is quite beautiful inside and I recommend that you visit this temple as well, while you are in the area.

---
---
How to get to the Reclining Buddha Temple in Penang :
RapidPenang Bus number 101 from Georgetown is the best bus to catch.
You can catch this bus from the Jetty, Chulia Street or Penang Road in the old part of Georgetown.
This bus then goes to the KOMTAR bus station and then along Jalan Burma.
The temple is on your right hand side.
You can't really see if from the bus so you will have to ask the driver to let you off there.
Bus 101 is one of the most frequent buses and runs every 10 - 15 minutes.

If you are wondering how to get from Batu Ferringhi to the Thai Temple, the answer is Bus 101 as well!

Other buses that you could also use to get to the temple are the RapidPenang bus numbers 10, 103 and 104, but they are much less frequent.
Wat Chayamangkalaram Pictures :
Photos of the Thai Buddhist Temple inside and outside.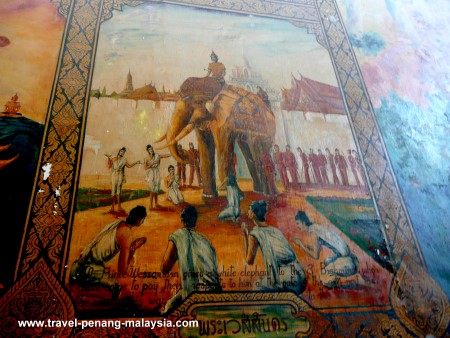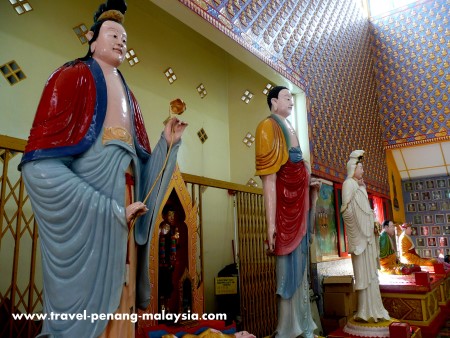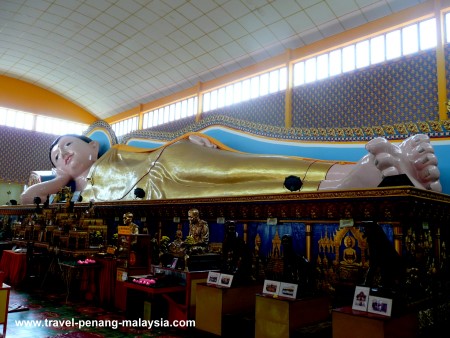 ---
More places of worship to visit in Penang :

For more of Penang islands most famous temples, mosques and churches, just click on a picture link below :

Back to Penang Temples main page >>
---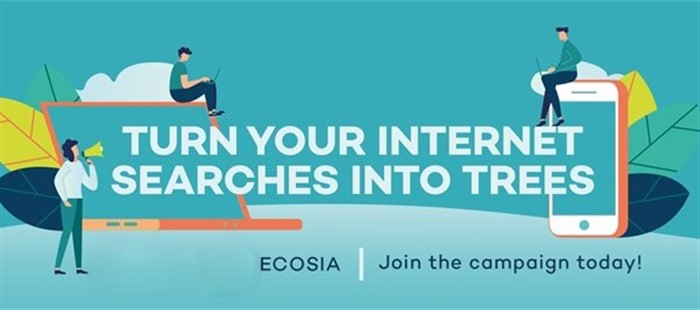 Ecosia - The Search Engine that Plants Trees >