Penang Ferry Schedule
Penang Butterworth Ferry
If your travelling overland to Penang, then you will probably use the Penang Ferry (Feri Pulau Pinang) which runs between Butterworth on mainland Malaysia, to Georgetown on Penang Island.
If you have arrived at this page looking for a ferry to Langkawi or Medan, please visit the following pages :
Penang Ferry Operating Hours (Schedule) 2018 (Waktu Operasi Feri Pulau Pinang)

The first ferry from Butterworth to George Town is at 05.20 am.
The last ferry to Penang is at 00.10 am.
The first ferry from Penang Island to Butterworth is at 05.40 am.
The last ferry to Butterworth is at 00.40 am.
The Penang ferry runs roughly every 20 to 30 minutes (You never have to wait too long) and takes about 15 to 20 minutes to cover the 3km distance.
After 10pm, there are less frequent boats, with just one departure every 60 minutes.
To check the latest Penang to Butterworth ferry schedule :
You can visit the official RapidFerry website here >

---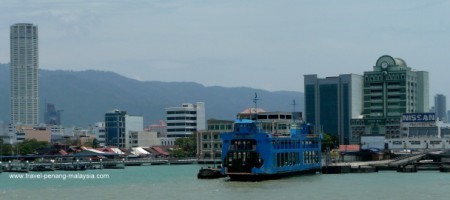 Penang / Butterworth Ferry Telephone Numbers :

Penang Side : 04 261 0290 / 210 2363 (duty officer)
Butterworth Side : 04 331 2796 / 310 2377 (duty officer)

How much is the Penang Butterworth ferry?
You only have to pay for the ferry to Penang Island.
There is no charge for the return journey back to Butterworth.
Penang Ferry Ticket Price (Harga Tiket Feri Penang) :

Pedestrian
Adult fare (tambang) : RM 1.20
Children (between 5-12 years old) : RM 0.60
Vehicles
Bicycle: : RM 1.40
Motorcycle : RM 2.00
Car : RM 7.70
Want to find the newest places to stay in Penang?
Foot passengers now have to buy ferry tickets from the ticket counter, then you have to scan your ticket on top of the turnstile to enter the waiting area.

Location Butterworth side:
The Pangkalan Sultan Abdul Halim Ferry Terminal in Butterworth is right next to Butterworth train station and the bus station and will soon be part of the Penang Sentral transport hub (currently under construction).
Due to all the building work going on around the terminal, currently you have to take a free bus from the ferry to the bus and train station. This can add an extra 15 minutes to the journey (you can be stuck at the traffic lights for ages), so allow yourselves extra time so you don't miss your bus or train. This bus service was due be in operation until the 31st of January 2018, but as of November 2018, it is still in use and may be for quite a while longer!

If you are arriving by train, keep to your left after leaving the platform and follow the covered walkway up a slope.
It will only take you a minute or two!
The bus terminal is now located in front of the railway station.

If you have just arrived on the train from Thailand you will need your first Malaysian money here.
There is a money-changer at Butterworth train station (not the best rates!) or you can change some money while at the border station of Padang Besar.
Location Penang side:
Ferries depart from the Pangkalan Raja Tun Uda Ferry Terminal in George Town at Weld Quay, otherwise known just as the Penang Jetty (Jeti Pulau Pinang).
From here you can catch a bus to anywhere on the island as the Rapid Penang Jetty Bus Terminal is on both your right and left as you exit the ferry area.
If you need any help about which bus to catch, just ask at the bus terminal information office.
You can also catch the "Free Cat" Penang bus here which takes you around the old part of Georgetown past many of the George Town Hotels and onto KOMTAR bus terminal.
The free Penang bus now leaves from the new Terminal B, on the left hand side as you come down from the ferry.
They depart every 15 minutes or so.
---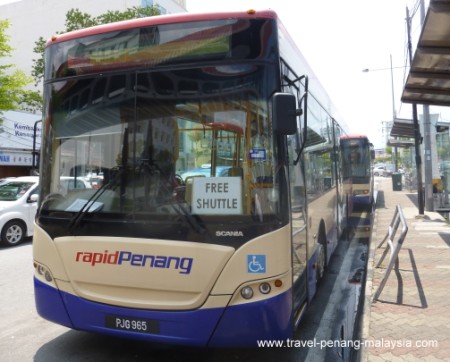 If you want to travel by bus from the Penang ferry jetty to Batu Ferringhi beach, take bus 101 which leaves from terminal B every 10 minutes or so and is by far the cheapest way to get out to Penang's beaches.

For all bus routes around the island we suggest you visit the :
RapidPenang Website by clicking here >
---
There are many Taxi drivers here also if you require one.
For more information and sample taxi fares, please visit our Penang Taxi Page

Or you can walk the short distance into town where you will find many hotels and guesthouses in the Chulia Street area.
Chulia Street (Lebuh Chulia) starts a minutes walk away from the exit of the ferry terminal on your left. Just walk along here for five minutes, along the edge of Little India and past the Kapitan Keling Mosque.
After the mosque is where you will find most of the accommodation, either along Chulia St, Love Lane and Muntri Street.
For places to stay in Chulia Street click here >
For places to stay in Love Lane click here >
For places to stay in the Little India area click here >

At the end of Lebuh Chulia is where you will find Penang Road (Jalan Penang), which is a popular tourist area with many hotels, shops, restaurants and the main nightlife area of the city.

For hotels in the Penang Road area click here >

---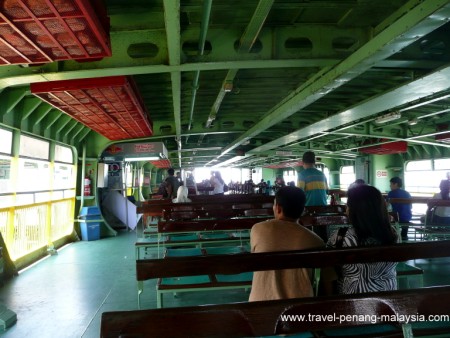 Places to stay near the Ferry Terminal in Penang

There are a few places to stay within a few minutes walk of the ferry with both budget and luxury accommodation nearby.
Places to stay near the Ferry Terminal in Butterworth
If you want to stay over on the mainland, there are not that many places to stay compared to the island, but there are a few relatively cheap places within 10 - 20 minutes walk of the ferry terminal that will do for a night if you want to catch an early bus or train.
For a list of places to stay in Butterworth click here >

---
Other Pages on our site that may be of interest to you
Budget Accommodation in Georgetown
Budget Accommodation in Batu Ferringhi Beach
Pictures from around Penang Island
---
Related Pages

Kuala Perlis to Langkawi Ferry