KTM Butterworth Train Station Penang Sentral
(Stesen Keretapi Butterworth)

The old Butterworth train station has been demolished to make way for a new state of the art transport hub for trains and buses, known as Penang Sentral.
In its place is a new Butterworth railway station that is now open, although building work still continues around the station is still not yet 100% complete.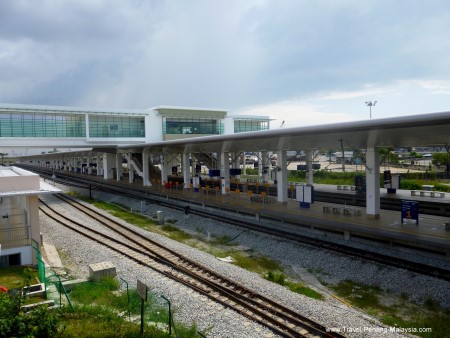 The new Butterworth Train Station (Stesen Keretapi Butterworth)
Like all the other new stations that have been built recently on the new double electrified Malaysian Railways tracks, it is a gleaming white colour and quite modern in design and ready to start receiving the new High-Speed ETS Trains.
There are also now much more frequent and cheap KTM Komuter (commuter) services that leaving throughout the day and evening to the border with Thailand (at Padang Besar) or you can travel via Bukit Mertajam to Perak state.

The ticket office is upstairs and can be reached by stairs or by a lift from the main entrance.
If you are staying on Penang Island, there is no need to travel over to the mainland to buy your train tickets, as there is a small KTM ticket office in George Town by the ferry jetty or you can book train tickets online here >>
Just past the ticket counters is a fairly small waiting area with seating or you can wait in the main area where there are more seats and a wall you can sit on.
Passengers now have to wait up here and are not allowed onto the platform until the train has arrived and all incoming passengers have disembarked.
The guards will then check your tickets and open up the stairway and lift down to the platform so you can board your train.
KTM Butterworth Ticket Counter Opening Hours
(waktu operasi kaunter tiket KTM Butterworth)

The ticket counter at Butterworth station is open from 04:30 to 22:30.

KTM Butterworth Train Station Contact Telephone Number:
(Nombor Telefon KTM Butterworth)
You can phone the Stesen Keretapi KTM Butterworth contact number: 04 - 3312796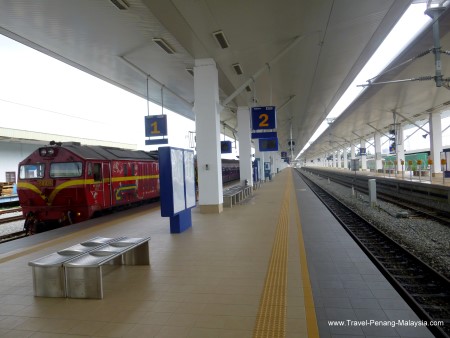 The new extra long platforms at Butterworth Railway Station
Arriving at Butterworth Station

If you are heading for the Penang Ferry over to George Town on Penang Island, when you leave the station, turn left at the exit.
To reach the ferry departure point, you now have to go through the Penang Sentral building.

There are plenty of sign posts around so just follow them - With all the building work still going on around the station, things may change (again).
For more information on the ferry from Butterworth to Penang click here >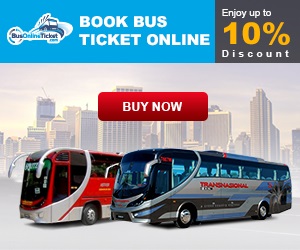 Book Bus Tickets Online >
If you are going to catch a bus from Butterworth Bus Terminal, this is also now under the Penang Sentral building, so just follow the signs to the bus ticket counters.

For more about Butterworth Bus Station click here >

The money changer at Butterworth station seems to have momentarily disappeared - so you may want to bring enough Malaysian money just to get you over to the island if you are arriving on the train from Thailand. I am sure he will be back as soon as all the shops and kiosks at the station / Penang Sentral are fully open.
Hotels near the Butterworth Railway Station

There are a few places to stay near the station, but you will have to walk for between ten and twenty minutes or take a taxi.
You are much better off heading over to the island on the ferry, as there is so much more choice of accommodation in George Town.
Please see the following pages for our selection of the best places to stay while in Penang Island:
George Town Budget Accommodation
Batu Ferringhi Beach Budget Accommodation
However, if you want to stay in Butterworth to catch an early morning train or bus:
Click here to see our list of Butterworth Hotels and Guesthouses >

---
For information on trains from Butterworth Train Station, including times, ticket prices and where to buy your train tickets on Penang Island, please view some of the following pages:

Related pages on our site:
Information on Train Travel to Butterworth
Butterworth to Johor Bahru Train

Butterworth to Kuala Lumpur Train
Butterworth to Singapore Train
Butterworth ETS - high-speed Electric Train Services

Komuter Train Service timetable from Butterworth to Padang Besar
Komuter Timetable from Padang Besar to Butterworth

KTM Ticket Office in Penang Island
---
---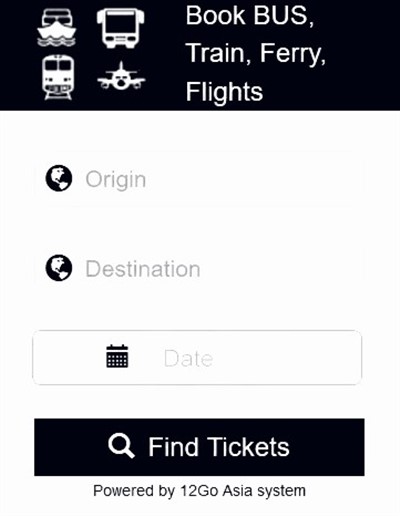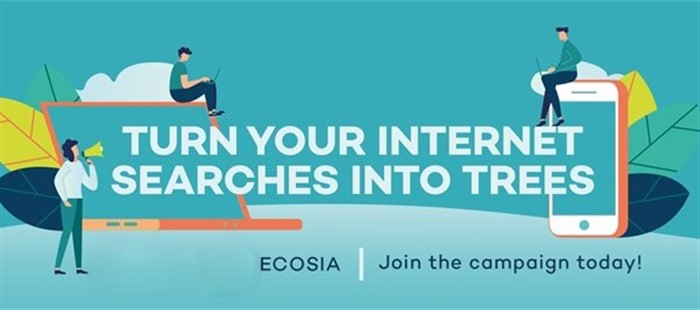 Ecosia - The Search Engine that Plants Trees >