Bus to Penang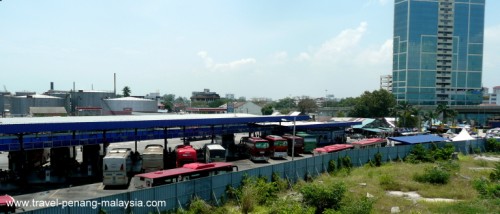 Travelling by bus to Penang Island can be done from just about anywhere on Peninsular Malaysia with hundreds of buses a day coming from all destinations to either Butterworth bus station on the mainland or KOMTAR and Sungai Nibong bus station on Penang Island.
If you have the choice and are planning to arrive well before midnight to catch the last Penang Island ferry, then Butterworth bus station is my first choice of arrival point in Penang - Read on to find out why?
Sungai Nibong Bus Station
As a tourist there is no reason to get a bus to this bus station on Penang Island because it is quite a long way from the old part of Georgetown where most visitors will be heading to to find accommodation. If you do end up here you will have to go out onto the main road and catch a local island bus to KOMTAR then on towards the Jetty to find a hotel or pay for an expensive taxi which will probably cost just as much as the fare you just paid for your bus to Penang!
KOMTAR
Many long distance buses depart from KOMTAR but less and less now arrive here and most now terminate at Sungai Nibong bus terminal. KOMTAR is just on the edge of the old part of the city where you can then catch a bus or walk along Penang Road for about 10 minutes where you will find many of the upmarket hotels as well as a few budget hotels. Turn off Penang road for Chulia Street where you will find a great deal more budget hotels and guesthouses on Chulia and off the side roads like Love Lane and Muntri Street
Butterworth Bus Station
This is my number one point of entry to get to Penang Island and for someone who has never been to Penang before the easiest way to get orientated.
Butterworth bus terminal is on the mainland, right next to the Butterworth to Penang Ferry (just look for the stairs going up at the back of the bus station). Once your on the ferry it is just 15 minutes to get to the Georgetown Jetty, where you have a choice of walking into town ( most hotels / guesthouses can be reached in 10 minutes ), catch one on the government "FREECAT" buses from in front of the bus station or catch a Rapid Penang bus to anywhere else on the island from their bus station that is all around you as you walk down from the ferry
Another reason I like to get the bus to Penang, Butterworth bus station, is that you avoid the sometimes horrendous traffic on the island, that can mean spending up to an hour on the island before reaching KOMTAR
There is also a lot more choice of buses going to Butterworth with many of the cheaper bus companies operating to here rather than onto Penang Island where all the luxury buses all tend to end up
---
Related pages on our site
---