Penang Bangkok Train
There is a daily overnight Penang Bangkok Train if you want to travel from Thailand to Malaysia by train and vice versa.
International Express Train number 36 (Ekspres Antarabangsa) leaves Butterworth train station at 14:00, scheduled to arrive at Bangkok's Hualamphong Railway Station the next day at 10:30am.
---
---
Train number 35 is scheduled to leave Bangkok's Hualamphong train station at 14:45 arriving at Butterworth train station at 13:00 the next day.
These services are operated by SRT (State Railway of Thailand) and not KTMB ( Malaysian Railways).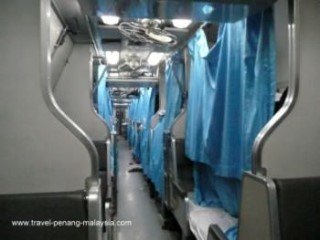 This is an all 2nd class air conditioned train, where you will have to purchase a sleeper bed, either lower bed or upper bed.
The lower beds are the best by far and are much wider than the upper beds.
This means they are the first to sell out, so it's best to book at least a few days in advance, better still at least a week before, especially if you are travelling from Thailand, as the Thai's book up all the good beds to travel down to Hat Yai.

Try to get a bed in the middle of the train as you don't want to be right next to the automatic doors (at either end of the carriage) which will mean you won't get much sleep.
Seats / beds numbers 37 - 40 are right by the door to the exit and 1 - 4 are at the toilet end.
The section between the border and Butterworth is no longer being operated by the SRT Train.
To travel between Padang Besar and Butterworth there are now many new commuter trains (KTM Komuter).
****

Important Schedule Change from 2nd December 2016 :
From this date train numbers 35/36 will be replaced with trains 31/32. These new trains will operate with the new Chinese made carriages at the same times as 35/36 but are now scheduled to terminate / originate from Hat Yai Station.
A new service will now operate Bangkok - Padang Besar - Bangkok.
Train 45 will depart Bangkok at 15:10 - Arriving at PB at 09:53 (Malaysian Time).
Train 46 will depart PB at 18:00 (Malaysian Time) - Arriving in Bangkok at 10:10.

****

Tickets for the train from PB to Bangkok are now only available from Padang Besar station and not sold from the KTM Office in George Town or Butterworth Railway Station.

This could cause a few problems for some travellers who want to guarantee a seat / berth on a particular date.
If you do want to make a advance booking you will now have to pay a little extra and use an online ticket agent.

To make a booking for this train to Bangkok from Padang Besar click here >>
If you are worried that all sleeping berths on train 46 will be sold out and don't want to book through an agent, we would recommend that you travel to Padang Besar in time to catch the afternoon Shuttle train to Hat Yai, departing PB at 15:40 Malaysian Time.
From Hat Yai you can catch a number of trains heading north to Bangkok.
Click here for the Hat Yai to Bangkok train timetable >>
If you are buying train ticket from Thailand to Penang, you can purchase your tickets at any railway station in Thailand up to 60 days in advance.
If you do not mind paying a little bit extra, you can book train tickets from Bangkok to Butterworth online.
You can pick your tickets up from Hua Lamphong Railway Station in Bangkok, a minimum of 60 minutes before departure time.
Tickets Prices / Fares for the Penang - Bangkok Train :
Prices in Malaysian Ringgit - For prices in Thai Baht just multiply by 10 for a rough estimate.
Penang (Butterworth) to Hat Yai RM40 - ( cheaper and faster to go to Hat Yai by minibus!)
Penang to Surat Thani (for Koh Samui) RM84.90 (upper berth) RM92.90 (lower berth)
Penang to Hua Hin RM97.90 (upper) RM105.90 (lower)
Penang to Bangkok RM103.90 (upper) RM111.90 (lower)
---
Penang Bangkok Train Timetables
Wondering how long the train from Butterworth to Bangkok takes?
Check out the schedules below, with all the main stops along the way.

---
---
Recommended Inexpensive Accommodation in Bangkok
---
---
The Bangkok to Penang train stops at the border at Padang Besar for passport control.
You could be here for anything up to 2 hours!
There is a money changer on the platform (now closed).
There is a cafe upstairs which is a good place for breakfast if you are coming from Thailand, but is usually closed if coming from Butterworth.
If you are offered to change money on the train (usually in Hat Yai coming from Thailand) don't do it.
You will lose over 10 % on the exchange.
Usually a man goes around with the daily paper to show you the official exchange rate, which he gives you.
Trouble is, the exchange rate for Malaysian Ringgit by Thai banks is dreadful.
Wait until you get to Butterworth station where there are money changers who will give you a much better rate or bring a few Ringgit with you.
Station Information :
The old Butterworth train station has been demolished and replaced with a new one.
Visit our Butterworth Railway Station page for more information.
If you are going to Bangkok, click here information about Bangkok's Hua Lamphong Railway station and how to travel from there to popular areas of the city.
For places to stay near the station in Bangkok click here.

---
---
Food :
Food is available on the train for dinner and breakfast as well as soft drinks and beer (sorry beer is no longer on the menu!). One of the stewards will come around with a menu. The food has improved over the years and there is now a larger choice on the menu, including a vegetarian dish.

To see the menu on Thai trains click here.
At Hat Yai you will find lots of Thai ladies getting on the train selling fried chicken and sticky rice as well as fruit, or you can head down to the dining car which is added in Hat (Haad) Yai.
Don't forget to change your watches - Thailand is one hour behind Malaysian time.
Bangkok to Langkawi by Train
If you are heading to the island of Langkawi you can disembark in Arau for the ferry from Kuala Perlis or Alor Setar for the ferry from Kuala Kedah.
---
---
Recommended Budget Accommodation in George Town
---
Arriving at Butterworth Train Station

If you are travelling over to Penang island you will have to catch the ferry over to the island into Georgetown.
The ferry terminal is just a few minutes walk away. Keep to your left when you exit the train station and take the covered walkway up the the terminal.
Boats leave every 15 minutes and takes around 15 minutes to arrive in Georgetown.
Once you are on the island, it is about 10 minutes walk to the budget hotel area around Chulia Street.
Alternatively you can catch the free, "Freecat Bus" from the main road in front of the ferry terminal. Get off at the Museum stop to be close to Love Lane and the budget hotel area.
If you are travelling out to the beaches and staying in Batu Ferringhi, catch bus 101 that leaves from the bus station on the left as you come out of the terminal.
If you are not staying in Penang, the Butterworth Bus Terminal is also just a few minutes away. From here you can catch a bus to just about anywhere in Peninsular Malaysia and all the way down to Singapore.

---
Other Pages on our site that may be of interest to you if your travelling from Thailand to Penang.

If you are heading into Thailand on the Penang Bangkok train, you may need some accommodation.
Visit one of the following links, where you will be able to find some great deals on a whole range of lodging, from budget hostels to luxury resorts.
Find Accommodation Deals in Thailand

Related Pages
---
---
Want to Find the Best Place to Stay on Pulau Pinang?
Budget or Luxury Accommodation, reviewed by real travellers like yourself.
---