Eastern and Oriental Hotel Georgetown
(E and O Hotel Penang)
The E and O Hotel Penang (full name - Eastern And Oriental Hotel Georgetown) is the iconic hotel on the island and the first luxury hotel built in the city (opened in the late 19th century).

So, if you are looking for accommodation with old colonial charm, this is one of the best choices in Georgetown.
As one of the most luxurious Penang 5 star hotels and one of the most expensive places to stay in Penang, the waterfront property offers a choice of large luxurious suites over two different wings:
The older Heritage Wing
The newer Victory Annexe
---

Book your stay at the Eastern And Oriental Hotel Georgetown
---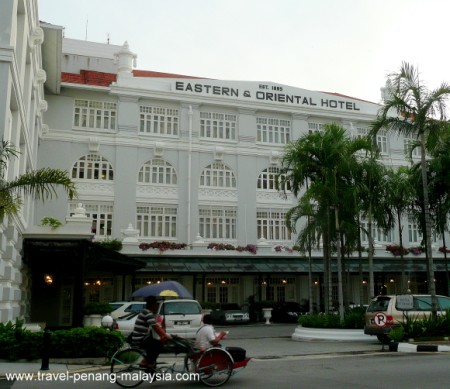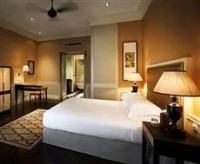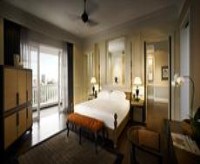 If you are interested in staying at this famous old Heritage hotel in George Town, you can:
---
History of the Eastern and Oriental Hotel Georgetown
The Armenian Sarkies brothers, Martin and Tigran, first opened the Eastern Hotel back in 1884.
Due to it's almost instant success catering to affluent travellers from Europe and America, in 1885 they opened another hotel, the Oriental on an adjacent piece of land.
A large ballroom was added by another of the brothers, Arshak, in 1903 and it became the centre of Pulau Pinang's social life.
Famous guests that have stayed here over the years include, Noel Coward, Douglas Fairbanks, Rudyard Kipling and Somerset Maugham.
Today there are 101 luxurious guest suites at the E&O Hotel with either sea or city view and with round-the-clock butler service.
Even if your not planning to stay here, the hotel is still worth a visit. Pick up some E&O trademark souvenirs or visit one of their fine restaurants or bars.

---
Dining:
Sarkies Corner - A colonial style coffee shop open for breakfast and all day dining from 6.30 am until 23.00  
- à la carte or buffet - international and local food.
The 1885 - The place to go in Georgetown for a traditional English Afternoon Tea (2.30 pm – 5.00 pm)
Also open for dinner from 18.30 – 22.30

The Bakery - Offering freshly baked cakes, pastries and pies.
Open from 10.00 am - 22.00 

Verandah - Alfresco dining with views of the sea and tropical gardens.
Open from 6.30 am - 23.00 

The Deck - Poolside dining with snacks and refreshments.
Open from 11.00am to 19.00
Farquhar's Bar - British style pub with "pub grub" and a large selection of beers.
Open from 11.00 am to 23.00.
---
Eastern And Oriental Hotel Penang Map: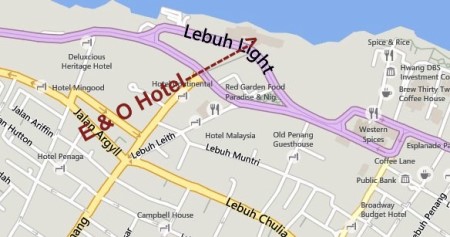 Location of the E and O Hotel: Situated on the intersection of Farquhar Street and Penang Road, the hotel is within walking distance to many of Georgetown's heritage sites and tourist attractions, and close to night life venues, with nightclubs and bars just a short stagger away from the front door of the property.
---

Book your stay at the Eastern And Oriental Hotel Georgetown
---
Hotel Address and Telephone contact details:
10 Lebuh Farquhar, 10200 Pulau Pinang, Malaysia

Telephone Number: +(6) 04 222 2000
Fax: +(6) 04 261 6333
More 5 Star Hotels in Penang >>
---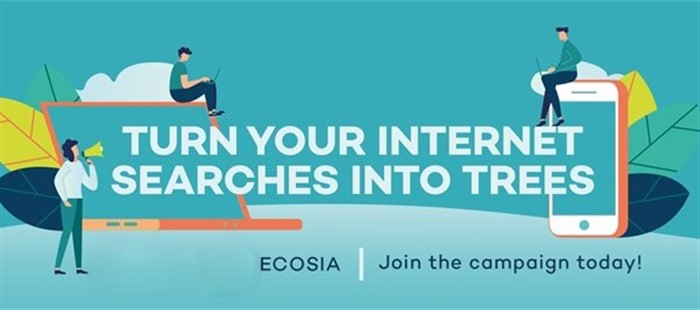 Ecosia - The Search Engine that Plants Trees >