Hotel Equatorial Penang
The Hotel Equatorial Penang is a large 5 star resort style hotel and the only hotel in Penang Island next to an 18-hole golf course, the Bukit Jambul Golf and Country Club.
This large resort hotel offers a total of 655 luxury guest rooms and luxurious suites.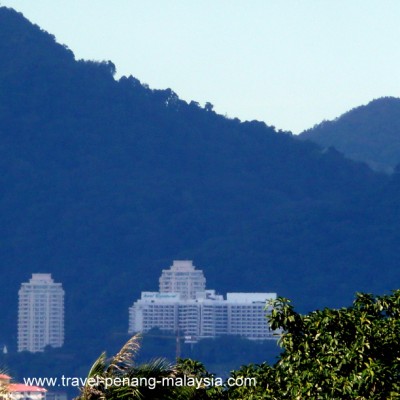 ---
If you are interested in staying at this luxury Golf Resort in Penang, you can :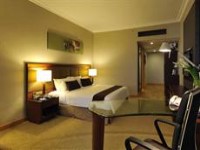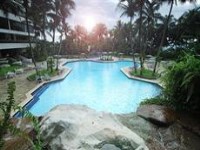 ---
Accommodations :

Guest accommodation range from Premier rooms which are a spacious 41Sqm, Premier Deluxe 44Sqm, Club Premier and Club Premier Deluxe which have the added privileges of the club facilities and services and a range of much larger suites.

All rooms come with luxury furniture and fittings and include : electronic safe, satellite TV, high-speed internet, IDD telephones, mini bar / fridge, tea and coffee making facilities, luxury bathrooms with bath and shower, private balcony.

Facilities :

Leisure :
The hotel features an outdoors swimming pool with jacuzzi, a fitness centre, floodlit tennis courts, squash courts, sauna and massage.

Dining :
Coffee Garden - located next to swimming pool and waterfall, serving local and Western food, with nightly themed buffets
Opening times : Sunday - Thursday 6.00 am - 1.00 am / Friday and Saturday 6.00 am - 2.00 am
Golden Phoenix - serving authentic Szechuan and Cantonese cuisine
Opening times : 12 noon - 2.30 pm (Lunch) - 6.30 pm - 10.00 pm (Dinner)
Kampachi - serving authentic Japanese cuisine - featuring a Sushi bar and Teppanyaki counter.
Opening times : 12 noon - 2.30 pm (Lunch) - 5.30 pm - 10.00 pm (Dinner)
The View - offering classic French cuisine
Opening times : Mondays - Fridays 12.00 noon - 2.30 pm / 6.30 pm - 10.00 pm
Saturdays 6.30 pm - 10.00 pm / Closed on Sundays and Public Holidays
Blue Moon - bar and lounge with live entertainment
Opening times : 5.00 pm - 1.00 am
---
Location : This luxury Penang hotel is located 150 metres above sea level in Bayan Lepas and has panoramic views of Penang's coastline and the Penang Bridge.
Penang International Airport (PEN) is less than 10 minutes drive away from the property.

---

Guest Reviews
Or compare room rates for the best deals here >>>

---
Hotel Equatorial Penang Contact Details :

Address & Contact Telephone numbers
1 Jalan Bukit Jambul
Bayan Lepas, 11900 Penang, Malaysia
Telephone : +604 632 7000
Fax : +604 632 7100
Email : info@pen.equatorial.com
Official Website :
www.hotel-equatorial-penang.com
---
More accommodation close to the Hotel Equatorial Penang that may also interest you :

---
For more accommodation in the Bayan Lepas area of Penang island click here>>>
For more 5 Star Hotels in Penang click here>>>

---