Hotels in Bayan Lepas Penang (Near PEN Airport)
---
---
Below you will find a list of Hotels in Bayan Lepas Penang, an ideal location if you want to have accommodation close to Penang International Airport or be close to the Bayan Lepas Free Industrial Zone.
If however, you are visiting Penang as a tourist, you would be much better off staying in the city of George Town where all the sights and tourist attractions are located.

List of Hotels in and around the Bayan Lepas area of Penang Island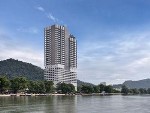 Lexis Suites Hotel Penang - 5 Star

Opened in early 2016, this new all Suites Hotel in Penang is located just a short drive away from the airport in the Teluk Kumbar beach area.

Read Reviews / Check Prices

---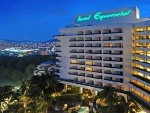 Hotel Equatorial - 4/5 Star
Large luxury business and leisure resort hotel with an elevated position in the foothills of Penang, offering fine views over the island and the 1st Penang Bridge. The resort also has its own 18 hole golf course.
---
---
---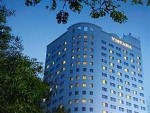 Vistana Hotel - 4 Star
A business class hotel located in Bukit Jambul close to Bayan Lepas, offering 238 Deluxe rooms and large two and three bedroom suites for larger families.

Read Reviews / Check Prices

---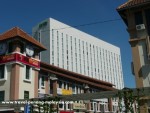 Eastin Hotel - 4 Star
Deluxe business and leisure hotel located just a stones throw away from the Queensbay Shopping Mall.
---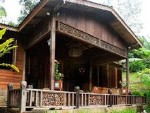 Fig Tree Hill Resort- 4 Star

A tranquil rainforest retreat with Balinese style villas. An ideal place to escape modern life for a while!

Read Reviews / Check Prices

---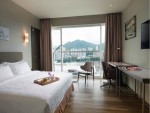 Olive Tree Hotel Bayan Lepas Penang - 3/4 Star

New hotel located near Spice Arena / PISA, opened in August 2015.

Read Reviews / Check Prices

---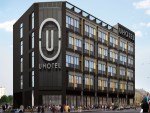 U Hotel Bayan Lepas - 3 Star

A new hotel in Bayan Lepas opened in February 2015, located along Jalan Sungai Dua, offering 128 rooms, aimed at the budget business traveller, with free airport shuttle services.
---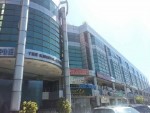 Krystal Suites - 3 Star
Apartment hotel in Bayan Lepas located in the Krystal Point Corporate Park, with one and two bedroom apartments.

Read Reviews / Check Prices

---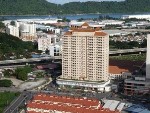 B Suite Hotel - 3 Star

This property offers larger than average rooms in Studio Suites and is within easy access to the Penang Airport and industrial zone.

Read Reviews / Check Prices

---
Budget Hotels in Bayan Lepas Penang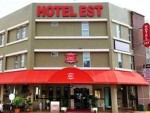 Hotel EST

Located very close to Penang International Airport (1 mile), an ideal place to stay for those with an early flight the next morning.

Read Reviews / Check Prices

---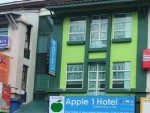 Apple 1 Hotel

Budget hotel in Bayan Lepas just opposite one of Penang's largest shopping centres, the Queensbay Mall.

Read Reviews / Check Prices

---
---