Best Beach Hotels in
Penang Island Malaysia

---
---
Looking for the best beach hotels in Penang island?
If you would like to stay on the beach while in Penang Island, there are plenty of luxury Beach Hotels and Resorts to choose from, with the two main beach areas being Batu Ferringhi and Tanjung Bungah.
Beach Hotels in Penang Batu Ferringhi
Batu Ferringhi beach is located on the North-West of the island, around 18 kilometres from the centre of Georgetown.
Here you will find a long stretch of sandy beach, which comes alive at the weekends, with plenty of water sport activities to keep you busy.

If you are on a tighter budget and can't quite afford these beach hotels in Penang, then visit our budget hotels in Batu Ferringhi page where you can find a plenty of cheaper options and a list of all the best cheap beach accommodation in Penang island.

---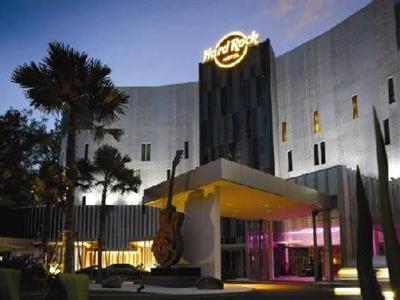 Hard Rock Hotel Batu Ferringhi
 - 4 Star
Located right on the beach towards the quieter Western end of the beach, this music themed hotel is a popular place for visitors to the beaches of Penang to stay, with loads to keep you entertained, both day and night. More...
---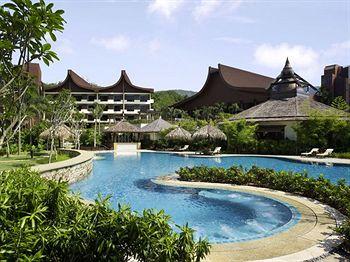 Rasa Sayang Hotel Penang
- 5 star hotel
A top Luxury Batu Ferringhi accommodation located at the far Eastern end of the beach, away from all the crowds, it is the first hotel on the beach as you come in to the town area. More...

---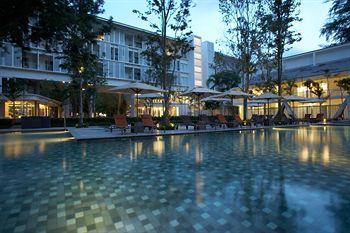 Lone Pine Hotel
- 5 star hotel
If you are looking for a bit of Colonial style, the Lone Pine Hotel is the place to go. It is a low rise boutique hotel sitting right on the central area of the beach. More...
---
---
---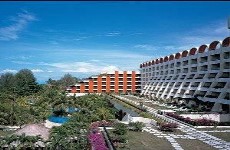 Parkroyal Hotel Penang
- 5 star hotel
The Parkroyal is another luxury 5 star Batu Ferringhi hotel and is located in the busier central area of town, close to the famous night market and all the restaurants in the area. More...

---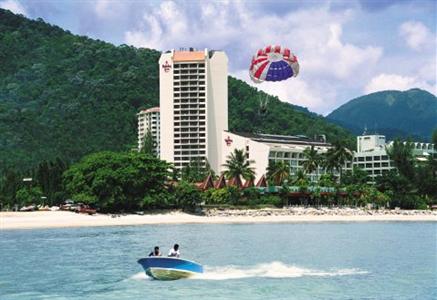 Holiday Inn Penang
- 4 star hotel
The Holiday Inn Batu Ferringhi Beach is divided into two areas. A high rise which is located just over the road from the beach and a low rise beach wing next to the beach. More...

---
Bayview Beach Resort Penang
- 4 star hotel
The Bayview Beach Hotel is a large deluxe accommodation, located right on the beach at the quieter Western end of town. More...
---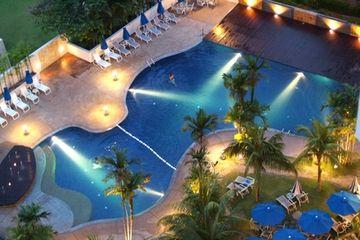 Hydro Hotel Penang
- 4 star hotel
The Hydro Majestic is located outside of the main centre of Batu Ferringhi and sits just above a small cove with its own beach, which can be easily reached in just a couple of minutes via a walkway across the road and a small stairway down to the beach. More...

---
Beach Hotels in Penang Tanjung Bungah

Tanjung Bungah beach is not as popular as Batu Ferringhi and to be honest, not as nice - but, it is very close to the city and is ideal for those wishing to be near the sea as well as being able to get in to town to do some sightseeing, without having to travel too far.

---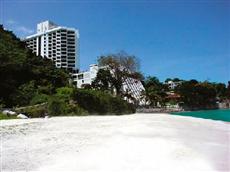 Copthorne Orchid Hotel Penang
- 4 star hotel
This Deluxe Hotel is located close to the centre of Tanjung Bungah for easy access to local eateries and the bus link to town. More...
---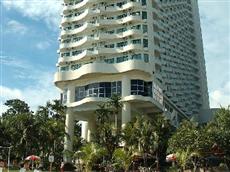 Rainbow Paradise Beach Resort
- 4 star hotel
Just down the road a little is this deluxe highrise accommodation. More...
---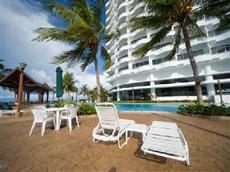 Flamingo by the Beach Hotel
- 4 star hotel
Also along this same strip, is another Deluxe beach front high-rise hotel. More...
---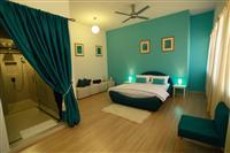 Chymes Hotel Penang
- 3 star hotel
If you want a unique place to stay near the beach in Penang, then this small boutique hotel is an excellent choice with only six individually styled rooms for guests. More...
---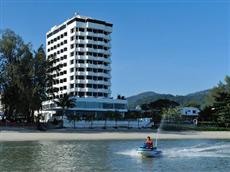 Naza Hotel Penang (now the Hotel Sentral Seaview)
- 3 star hotel
The first of all the beach hotels in Penang when leaving Georgetown, in the Tanjung Tokong district. More...
---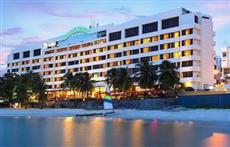 Tanjung Bungah Beach Hotel (now the Four Points by Sheraton)
- 4 star hotel
Deluxe newly renovated beach front accommodation in Tanjung Bunga. More..
---
---
---