HelicoNia Hotel Penang Georgetown
The 2 star Heliconia Hotel Penang, offers good clean affordable accommodation in a ultra modern building, right next to the much larger Hotel Sentral, located towards the end of Lorong Kinta where it joins the busy Macalister Road, with all its restaurants and hawker food outlets.
---
---
Want to know more about this hotel?
Want to read reviews from previous guests?
Want to find the cheapest room rates?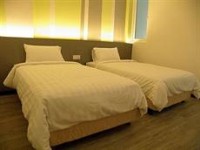 Accommodations :

The HelicoNia Hotel in Georgetown, offers a no-frills range of guest rooms that are modern in design, clean and come at very affordable rates.

All rooms are air-conditioned and come with an in-room safe,  flat screen TV, tea and coffee making facilities and wireless internet access.

Compare & Save on your Penang stay!
Find the best places to stay and the cheapest Penang Hotel Deals at :
Surrounding Area Around The HelicoNia Hotel Penang
If you want to stay close to the heart of George Town's main shopping area, this hotel offers easy access by foot, to all the main shopping malls in the centre of town.

Times Square is around five minutes walk away down New Lane, which can be reached by crossing over Macalister Road, almost directly opposite Kinta Lane.

To get to KOMTAR, the Prangin Mall and 1st Avenue Mall you have to walk down Macalister Road for around 10 minutes.

Tourist Attractions :
Most of Georgetown's sights can be found in the old "Core Zone" of town which will take you about 20 minutes to walk to from the property.

You could however make use of the RapidPenang Free City Bus that travels in a loop around the old part of the city.

You can pick this bus up from in front of KOMTAR or underneath it next to the bus terminal.

To travel to the rest of the island and the beaches at Batu Ferringhi, you can catch a bus from the bus terminal under KOMTAR.

Where to Eat :
The nearby Macalister Road has dozens of restaurants to choose from including Chinese, Malay, Indian and Seafood restaurants.
You will also be spoiled for choice when in comes to street food, as there are many Hawkers selling a wide array of food all along the lower end of Macalister Rd, including the famous New Lane Hawker Centre which is just a couple of minutes walk away from the HelicoNia Hotel.
If you want to eat Western or fast foods, just head to one of the shopping malls.

---

Guest Reviews
Or compare room rates for the best deals here >>>

---
Address :

18, Lorong Kinta,
Georgetown, Penang 10400, Malaysia.
More places to stay nearby :

---