Hotels near the Penang Ferry Terminal to Butterworth

If you would like to stay near the Penang ferry terminal, there are a few places to stay within a short walk of the ferry in Georgetown on Penang Island.
In a few years time there will be many more places to stay near to the ferry, as this area of the city is being renovated and the whole front along Weld Quay will have some upmarket accommodation and top class restaurants.
But for now, here are the places to stay that are nearest to the ferry terminal.
If you would like to read reviews and check room prices or book online (where available), just click on the links below the hotels.

New Hotels near the Ferry / Jetty in Georgetown Penang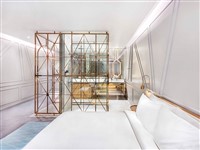 The Prestige Hotel
This new hotel close to the Penang ferry opened in May 2019 and offers 162 luxurious accommodations, an infinity rooftop swimming pool, gym and an on-site restaurant, as well as various dining outlets and a bar in the arcade on the ground floor.
Check Prices / Read Reviews >>

---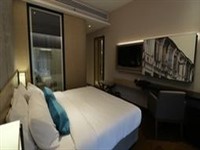 Victoria Garden Hotel Penang

A newly built 3/4 star hotel on Victoria Street (next to the G Times Inn) opened in December 2018, offering modern guest rooms, an on-site restaurant and rooftop terrace.

Read Reviews /Check Prices >>

---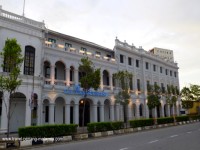 Royale Bintang Hotel (now Royale Chulan) - 4 Star

A new luxury hotel opened in May 2014, located along Pengkalan Weld, a few hundred metres to the north of the ferry terminal (on your right as you come out).
Read Reviews / Check Prices >>

---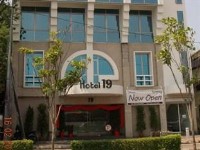 Hotel 19 Penang

New hotel for 2015 and now the closest hotel to the ferry terminal, as it is located just across the road, on your right, as you come out onto the main road.

Check Prices / Read Reviews >>

---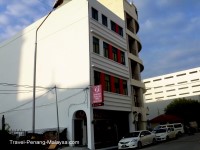 G Times Inn Penang
Newly built budget hotel located along Victoria Street, right next door to the Victoria Inn and just a minutes walk away from the ferry terminal over to Butterworth.

---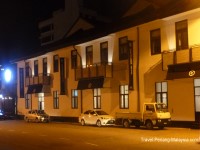 Container Hotel Penang - 2 Star

A new hotel located close to the ferry terminal on Gat Lebuh Chulia offering a range of rooms, as well as mixed and female only Pods.

Read Reviews / Check Prices >>

---
See more of the newest hotels in Penang here >

More Hotels near the Penang Ferry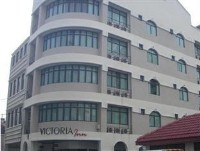 The Victoria Inn - 2 star

The Victoria Inn is just a couple of minutes walk away from the ferry terminal exit. As you come out, take the walkway over the main road and walk straight ahead down a small road where there is a small food court on your left. The hotel is at the end of this small road where the road meets Lebuh Victoria (Victoria Street), on your right hand side.

---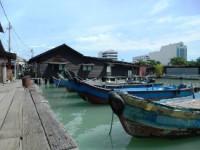 My Chew Jetty Homestay

Just to the left of the ferry terminal, you will find the Clan Jetties, with traditional houses built on stilts over the water and small walkways connecting the buildings. It is possible to stay here in one of these traditional homes, along Chew Jetty, where they have just three rooms available for tourists.

Read Reviews / Check Prices >>

---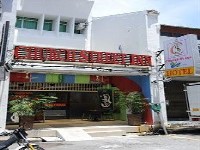 Church Street Inn
Located along Lebuh Gereja (Church Street) and just off of Lebuh Pantai (Beach Street) this is a cheap budget hotel, around 5 minutes walk from the jetty.

Read Reviews / Check Prices >>

---
Once you get into Church Street, you are just a round the corner to the Little India area of Georgetown, which, although not the most popular place to stay in town, has a number of budget accommodations plus a few more upmarket accommodations.
---
Just a few minutes walk past Little India you come to the most popular area of town for backpackers with dozens of places to stay in and around Chulia Street, Love Lane and Muntri Street.
View the main Hotels page here >>

---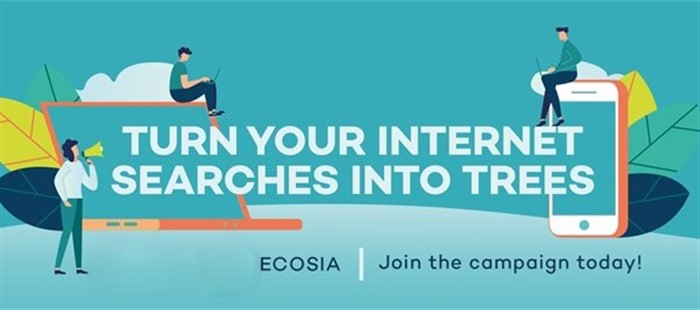 Ecosia - The Search Engine that Plants Trees >