Ipoh to Taiping by KTM Train (ETS), Bus - How to Get There
If you want to travel from Ipoh to Taiping you can get there using an ETS train from the railway station located close to the Old Town or take a coach / bus from Aman Jaya Bus Terminal.
The distance from Ipoh to Taiping (jarak Ipoh ke Taiping) is approximately 70 km by road.

For how to travel in the other direction from Taiping to Ipoh click here >

KTM ETS from Ipoh Train Station to Taiping

KTM ETS dari Stesen Keretapi Ipoh ke Taiping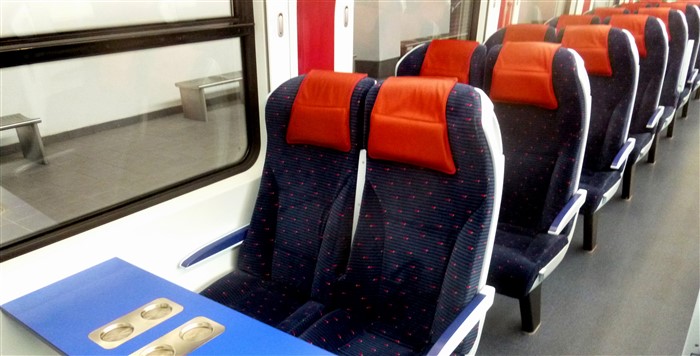 Seats on an ETS train to Taiping from Ipoh
By far the quickest way to get to Taiping from Ipoh is to take the train.

KTM Berhad operates fairly regular Electric Train Services (ETS for short) for the short trip to Taiping.

The duration of the train journey to Taiping from Ipoh is roughly 50 minutes.

Another advantage of travelling by train is that you will be going from close to the centre on Ipoh Old Town, to the centre of Taiping (unlike the bus - see below) so you can easily walk to and from your hotel.

The disadvantage is that is is more expensive than travel by bus with ETS tickets costing between 20 and 24 Ringgit.

To see the latest ETS train timetable on this route, please click on the following link:

You will need to book advance tickets if you want to travel by ETS train.

You can buy your tickets from the ticket counter at Ipoh station (or any other ETS station) or you can:
The train station in Ipoh is the best place to arrive or leave the city as it is located in the Old Town and easy to reach.
Bus from Ipoh to Taiping

Bas dari Ipoh ke Taiping
Travelling to Taiping from Ipoh by bus may be cheaper than the train, but it will be a much longer journey as the bus stations are located well outside both town centres.

From Ipoh, you will first have to travel out to Aman Jaya Bus Terminal (around 10 km from Ipoh Old Town).

To get from Ipoh to Aman Jaya cheaply, you can take a bus from Medan Kidd Bus Terminal in Ipoh Old Town (located 5 - 10 minutes walk south of the train station).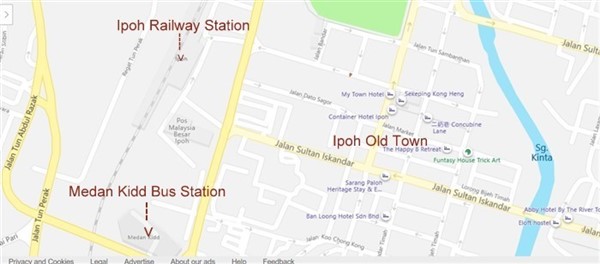 Map of the old town in Ipoh with Ipoh railway station and Medan Kidd bus station.
The nearest long-distance bus terminals to Taiping town centre are located at either Kamunting (6 km away) or Simpang (7 km away).

A bus ticket from Ipoh to either of these bus stations costs around 10 - 11 RM.

To find buses from Ipoh Aman Jaya to Taiping click here >

From these bus terminals, you will then have to take a local bus or taxi into the centre of Taiping town.

In total, the journey by bus from Ipoh to Taiping will take you at least two and a half hours (more if you have to wait a long time for bus connections).

---
Related pages:

How to go to Butterworth Penang Sentral from Taiping >

How to get from Ipoh to Penang >

---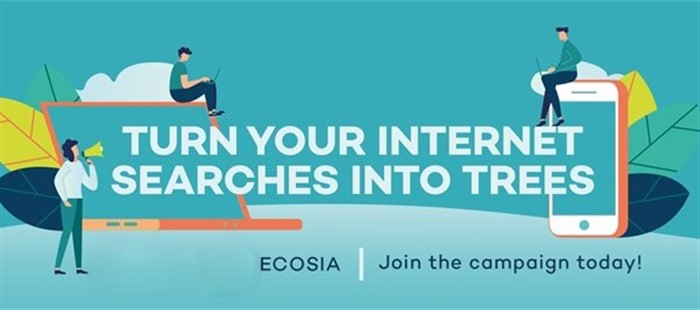 Ecosia - The Search Engine that Plants Trees >