Cheong Fatt Tze Mansion Penang
(The Blue Mansion by Samadhi)
The Cheong Fatt Tze Mansion in Penang or "Blue Mansion" as it is often referred as, is one of the leading tourist attractions in Penang and one of the most famous heritage buildings in Georgetown.
It also doubles as a unique hotel accommodation, offering guests are rare chance to sample staying at one of the city's most elegant buildings .
Built in the 1880′s for the Chinese trading and shipping tycoon Cheong Fatt Tze and now restored back to it's former glory, the mansion offers 16 themed bedroom suites for guests to indulge in some old world charm.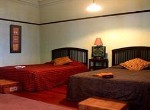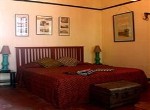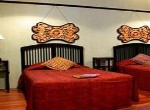 ---
Blue Mansion Tours :

If you can't quite afford to stay at the Blue Mansion by Samadhi, you can still visit on a fully conducted tour, which they run three times a day.
These tours are conducted in English, but private tours in other languages can be arranged.

Opening Hours for these tours are at 11am, 2pm and 3.30pm and the ticket price / entrance fee is RM16 per person.
Cheong Fatt Tze Mansion Map :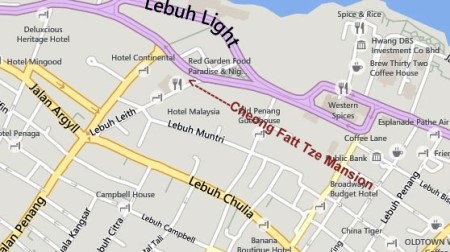 Location : The property can be found on the corner of Leith Street and Farquhar Street in Georgetown, just a couple of minutes walk from the bars and restaurants of the Upper Penang Road area.
Just across the road on Farquhar Street, you will find the City Bayview Hotel.

It is also just a minutes walk away from the popular Red Garden Food Court, which is a great place to go to sample a wide variety of the local cuisine. The food court also has live music in the evenings and serves beer and is a great place to hang out with both locals and tourists.
The main tourist sights of George Town can easily be reached on foot in around 10 to 15 minutes from the property.
For sights around the island, just walk up to Penang Road and turn left for the bus stop, where you can get buses out to the beaches and National Park etc.

---

Guest Reviews
Or compare room rates for the best deals here >>>

---
Address & Contact Telephone numbers :
14 Leith Street  (Lebuh Leith),
10200 Georgetown, Penang, Malaysia
Telephone Number : +(604) 262 0006
Fax : +(604) 262 5289
Email: cftm@tm.net.my
For more information about the hotel we recommend you visit their official website @
---
More luxury heritage hotels that you may want to stay at :

---
More Heritage Hotels in George Town

Back to Hotels main page