New Hotels in Langkawi 2017 / 2016...

List of the New Hotels in Langkawi Island, Malaysia for the last few years 2016 - 2015 / 14  - Find the best new accommodation to stay for your trip to the beautiful island of Pulau Langkawi.
---
Upcoming New Hotels in Langkawi for 2017

Upcoming hotels in Langkawi include the Ritz-Carlton Resort Langkawi, which is due to open in October 2017. This luxury resort will be a top of the range beach-front property, situated on its own private cove, with a private beach, located in the south-west corner of Langkawi Island.
This property is due to open on the 1st October 2017 and you can now make reservations from this date.
Check Prices / Read Reviews >>

Newest Langkawi Hotels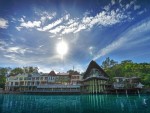 Langkawi Yacht Club Hotel

A new 3 star hotel in Langkawi, opened in mid 2016, located just a short walk away from the Langkawi Ferry Terminal.

Check Prices / Read Reviews >>

---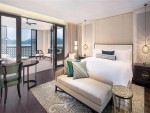 The St. Regis Langkawi

A new 5 star hotel in Langkawi, opened in April 2016 and located on a secluded and private beach just a short drive from the main town on the island, Kuah.

Check Prices / Read Reviews >>

---
Nadias Hotel Pantai Cenang Langkawi

This new hotel in Pantai Cenang is a good value 3 star, recently opened in 2016, with a good location just across the road from the beach and close to the Cenang Mall.

Check Prices / Read Reviews >>

---
Adya Hotel Langkawi

Located in the main town of Kuah, the Adya Hotel is a new 4 star hotel opened in January 2015. The property is located close to the middle of town, with rooms overlooking the sea or city. From the Jetty it is just a 5 minute drive away.

Read Reviews / Check Prices >>

---
---
---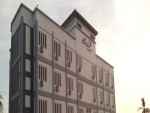 Salsa Resort Langkawi

A new good value 2 star hotel located in Temoyong Village, a few minutes drive away from Cenang Beach.

Check Prices / Read Reviews >>

---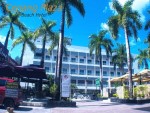 Cenang Plaza Beach Hotel Langkawi

A new chic hotel (opened in late 2014) located on the beach in the heart of Pantai Cenang beach area, close to the Cenang Mall.

Read Reviews / Check Prices >>

---
HIG Hotel Kuah Langkawi

A new 3 star hotel in Kuah town (open in November 2013), with a good central location, close to the HIG Duty Free Shopping Mall.

Read Reviews / Check Prices >>

---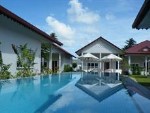 Langkawi Chantique Resort Pantai Cenang

The 3 star Chantique Resort opened in November 2012 and is a small resort set in a quiet area of Cenang beach, with just 24 rooms - the beach is a 15 minutes walk away from the property.

Read Reviews / Check Prices >>

---
Fave Hotel Cenang Beach Langkawi

The Fave Hotel is a relatively new 3 star property (that is a few years old now), located between the beaches of Pantai Tengah and Pantai Cenang, just 5 to 10 minutes by foot.

Read Reviews / Check Prices >>

---
---
Related Pages :
Luxury 5 Star Hotels in Langkawi
Budget Hotels in Pantai Cenang
New Hotels in KK - Kota Kinabalu

---
---