New Hotels in Langkawi, Malaysia

See our list of the latest New Hotels in Langkawi Island, Malaysia opened in the last few years - Find the best new accommodation to stay for your trip to the beautiful island of Pulau Langkawi.
This page contains links to third party sites that we are an affiliate of and may receive a small commission from if you book a room.
For more hotel information, guest reviews and to find prices and availability, click on the hotels name.

Newest Langkawi Hotels 2019 / 2018 / 2017... (hotel baru di Langkawi)

Royale Chenang Resort Langkawi >

This new 3/4 Star resort opened in January 2019 and is located in a relatively quiet area of Cenang / Tengah, around 5 minutes walk away from the Tengah Beach.

---
A new trendy accommodation in Cenang Beach offering stylish studio lofts.

---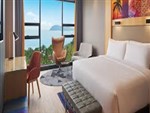 Aloft Langkawi Pantai Tengah >

The new Aloft hotel in Langkawi has recently opened in November 2018. This 4 Star property is located 200 metres away from Pantai Tengah beach.

---
Greenish Hotel Langkawi >

A new hotel in Kuah Town, this 3 Star accommodation is centrally located with an outdoor pool and restaurant.

---
A new 3 Star Villa resort opened in late 2018 a short distance outside Kuah town.

---
A recently renovated 3/4 Star hotel re-opened in mid 2018, located in the centre of Kuah Town.

---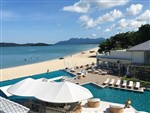 This new beach resort in Langkawi (which had its soft opening on the 15th of April 2018), is located at the end of Pantai Tengah beach offering accommodation in Dash Studio rooms, which come with either twin or a king sized bed. Facilities include two restaurants, a bar, a beach front infinity pool, gym, spa and a ballroom.

---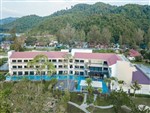 Camar Resort Langkawi >

A new resort hotel in Pantai Tengah Beach, Langkawi, opened in early 2018, offering 90 spacious guestrooms and suites in either the Beach Wing or Pool Wing. The property features a large saltwater pool and four food and beverage venues.

---
Kunang Kunang Heritage Villa >

A new villa resort offering an escape from the crowds, with accommodation in authentic, traditional wooden villas.

---
Ritz-Carlton Resort Langkawi >
Opened in October 2017, this new top luxury resort is a beach-front property, situated on its own private cove, with a private beach, located in the south-west corner of Langkawi Island.
---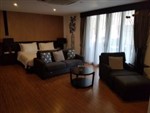 Lot 33 Boutique Hotel Pantai Tengah Langkawi >

This recently opened new small boutique hotel in Langkawi situated in a quiet location in the Pantai Cenang beach area, offering spacious, quality accommodation.

---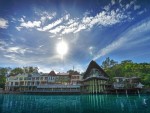 Langkawi Yacht Club Hotel >

A new 3 star hotel in Langkawi, opened in mid 2016, located just a short walk away from the Langkawi Ferry Terminal.

---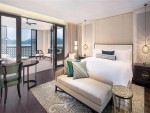 The St. Regis Langkawi >

A new 5 star hotel in Langkawi, opened in April 2016 located on a secluded and private beach just a short drive from the main town on the island, Kuah.

---
Nadias Hotel Pantai Cenang Langkawi >

This new hotel in Pantai Cenang is a good value 3 star, recently opened in 2016, with a good location just across the road from the beach and close to the Cenang Mall.

---
Adya Hotel Langkawi >

Located in the main town of Kuah, the Adya Hotel is a new 4 star hotel opened in January 2015. The property is located close to the middle of town, with rooms overlooking the sea or city. From the Jetty it is just a 5 minute drive away.

---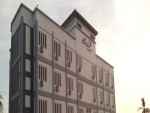 Salsa Resort Langkawi >

A new good value 2 star hotel located in Temoyong Village, a few minutes drive away from Cenang Beach.

---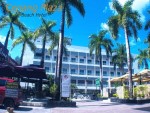 Cenang Plaza Beach Hotel Langkawi >

A new chic hotel (opened in late 2014) located on the beach in the heart of Pantai Cenang beach area, close to the Cenang Mall.

---
HIG Hotel Kuah Langkawi >

A new 3 star hotel in Kuah town (open in November 2013), with a good central location, close to the HIG Duty Free Shopping Mall.

---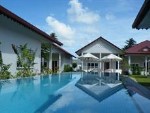 Langkawi Chantique Resort Pantai Cenang >

The 3 star Chantique Resort opened in November 2012 and is a small resort set in a quiet area of Cenang beach, with just 24 rooms - the beach is a 15 minutes walk away from the property.

---
Fave Hotel Cenang Beach Langkawi >

The Fave Hotel is a relatively new 3 star property (that is a few years old now), located between the beaches of Pantai Tengah and Pantai Cenang, just 5 to 10 minutes by foot.

---
Upcoming New Hotels in Langkawi for 2019
Please visit us again to find the latest hotel openings in Langkawi for 2019.

---
Related Pages :
Luxury 5 Star Hotels in Langkawi
Budget Hotels in Pantai Cenang
New hotel in the Cameron Highlands
New hotels in Genting Highlands
New Hotels in KK - Kota Kinabalu

---