Padang Besar Bus Information Thailand and Malaysia

This page contains information on where and how to get the Padang Besar Bus to Hat Yai and south into Malaysia for Kangar, Alor Setar, Penang and Langkawi.
Padang Besar Bus to Hat Yai Thailand
Catching the bus to Hat Yai from the border at Padang Besar is easy. When you walk out of the border checkpoint, just cross the road and there is a small bus stop just 50 metres to your right.

There is a frequent bus that runs along this route, taking about an hour and a half to get to the centre of the city from the border. The bus is one of those old, open window types, so don't expect any luxury, but it gets you to to where you are going without too much hassle, stopping to pick up every passenger that sticks his or her hand up along the way.

Bus From Hat Yai

This bus operates out of the local bus stop next to the clock tower near the night market close to the centre of the city, or you could catch a minibus from the intercity bus station if you are coming into Hat Yai by long distance bus.
The local bus costs about 44 Baht.
The minibus 50 Baht.
For more information on the bus and Minibus between Hat Yai and the border click here>>
The border control in Padang Besar is just outside the main town, so you will have to get off before you reach the main part of town and the end of the route, otherwise you will have a long walk back!Show the driver your passport and he will get the idea or where you want to get off. Or look out for the border on your left hand side (pictured below).
The border control in Padang Besar on the Thai side
Bus from Padang Besar Malaysia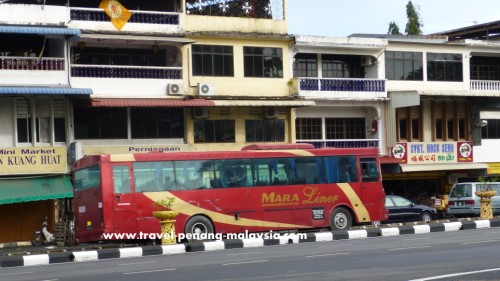 Maraliner bus coming in to Padang Besar
From P. Besar there are very few buses operating, so timing you crossing is quite important if you don't want to be hanging around for two to three hours.
Here are the only buses that operate out of Padang Besar Malaysia.

Maraliner operate 4 buses a day from Kangar which is 35 kilometres south, and has bus connections to most places in peninsular Malaysia from the intercity bus station which is around 10 minutes walk from the Maraliner bus station.
If heading to Langkawi, Maraliner operates a bus from Kangar to Kuala Perlis jetty, which is just 14 kilometres away. Or you can get a taxi for around RM14.
If heading further south, it is easier to catch a Maraliner bus to the large Alor Setar bus station which leave almost every hour, rather than walking to the intercity bus station, which is fairly small and chaotic, with only a few departures compared to Alor Setar.

If you want to read about my bus trip from P.Besar to Penang click here
Buses leave Kangar for Pandang Besar at :
08.45
11.45
14.45
17.45

They take around an hour to get to P. Besar, then wait around for about 15 minutes just south of the roundabout, before turning around back to Kangar.
When I did this trip the bus left again at around 10.00, so based on that, I would say they leave at the following times.

10.00
13.00
16.00
19.00
Tickets cost RM4.20
I have checked the Maraliner website and they have no details on this trip, so this is just an educated guess taken from the hand written times put up at their Kangar bus station, which may have changed by the time you read this!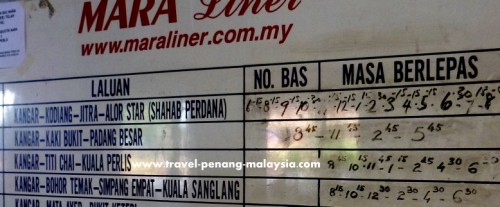 Marliner bus timetable from Kangar
Where to catch the bus?

You can wait just south of the roundabout by the first row of shops or walk down the hill a few hundred metres on your left to the BSN Bank, which is hidden behind a line of trees.
This is the official bus stop. There is a concrete bench by the road!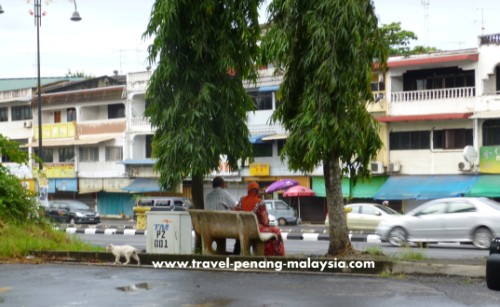 Padang Besar Bus Stop
Another bus company, Plusliner also does two trips a day to Butterworth Penang, via Alor Setar, and one trip to Kuala Lumpur.

I have never caught this bus, but taken from their website they operate from P. Besar at 14.00  and 18.30 taking three and a half hours to Butterworth and cost RM15.80.

Their bus from Padang Besar to Kuala Lumpur leaves at 11.00 and takes nine and a half hours and costs RM46.10.
Train from Pedang Besar

You could also catch a train heading south from here.
The train station is just to your right as you come out of the border control area on the Malaysian side. Just head up the stairs and cross the tracks to the station.
With the new KTM Komuter trains now operating from Padang Besar, there are now many trains a day heading to Butterworth, Penang.
To see the full KTM Komuter timetable from Padang Besar click here >

There are also now new ETS train services for long distance trips to places like Kuala Lumpur.
To see the full ETS train timetable from Padang Besar click here >

You can now also take the train north to Hat Yai as there is a new Shuttle service that operates between the border and Hat Yai Junction railway station.
To see the timetable for the Shuttle train to Hat Yai click here >

You could catch train 46 all the way to Bangkok, but you will probably not be able to get a sleeping berth if you just turn up at the station (advance booking can be done here >).
It is only two carriages long here. Many more get added in Hat Yai, plus there are many more choices of train leaving to Bangkok from there.
For train times and fares from Hat Yai to Bangkok click here >

The other train that passes here, the KL to Hat Yai train, is no longer in operation.

Related Links