Penang to Padang Besar
and the Thailand Border Crossing
If you are looking for an alternative way and a much more interesting way to travel from Penang to Thailand rather than the rather boring trip by minibus to Hat Yai, then this page will give you a few ideas of how to do it and where to visit along the way.

This route will take you from Penang through the state of Kedah and into the small state of Perlis, where there is a border crossing from Malaysia to Thailand at Padang Besar.
From July 2015, the new high-speed Electric train Service (ETS) is now operating from Penang's Butterworth Station to Padang Besar, making travel to the border with Thailand a lot quicker and easier than before.
For information on the ETS Trains from Butterworth click here >>
The ETS service will be cancelled from 31st January 2017 and you will now have to use the Komuter Train service (see link below).

From 1st January 2016 there is also a new Butterworth to Padang Besar Komuter Train Service >>

Penang to Alor Setar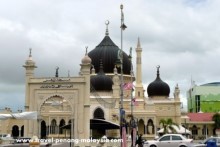 Alor Setar Malaysia
The first place that is worth a visit north of Penang is Alor Setar the capital of the state of Kedah.
Many people who visit Alor Setar are just passing by on their way to Langkawi Island, as the port of Kuala Kedah and its ferry service to Langkawi is just a short bus or taxi ride away (12 Kilometres).
However, it is worth spending a few hours or a day visiting the sights of the city, then you can continue on to Langkawi.

The city of Alor Setar is dominated by the towering Telecom tower and has some interesting places to visit around the "Padang", which is the large square in the centre of the city, surrounded by grand buildings.
Here you will find the Muzuim Di Raja Royal Palace, Zahir Mosque, Balai Besar (Big Hall), Balai Nobat, Balai Seni Negeri art gallery and the Clock Tower.

For information on how to get to Alor Setar from Penang by bus or train click here.
Alor Setar
Alor Setar to Kangar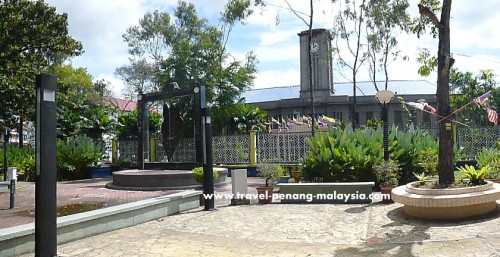 Kangar Malaysia
After visiting Alor Setar, if your not heading to Langkawi, you can continue north another 45 kilometres by bus to Kangar in Perlis State.
To catch a bus from Alor Setar to Kangar you will have to go to the Shahab Perdana bus station a few kilometres north of the city.
There are two bus companies that operate buses to Kangar.

Cityliner have a fleet of small buses that travel to Kangar every hour or so for RM5.30 and arrive at the intercity bus station in Kangar. The trip takes just over an hour and takes you through mainly small roads with nice scenery along the way.

Maraliner buses leave every hour at 30 minutes past the hour throughout the day. This bus is more comfortable but takes longer at around one and a half hours, as it goes via Jitra and Kodiang. The Marilner bus arrives in Kangar at its own bus station under the Perlis Bowl building close to the centre of town.

Kangar doesn't really have many sights to see but is quite a pleasant Malaysian town to stop for lunch or stay the night. There are plenty of hotels to stay at.

CityLiner Bus
From Kangar to Padang Besar and the Thailand Border Crossing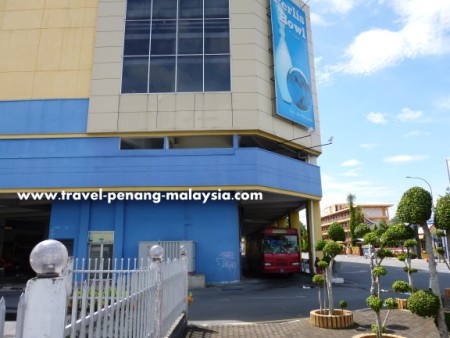 Maraliner bus station in Kangar
From Kangar you will have to go to the Maraliner bus terminal to catch a bus from Kangar to Padang Besar. If you arrive in Kangar at the intercity bus station, just walk back down to the main road where the bus turned in and turn right into town. Then turn left at the traffic lights. The Perlis Bowl building is is a few hundred metres down this road on the right.

Maraliner buses from Kangar to Pedang Besar operate four times a day, departing at :
08.45
11.45
14.45
17.45
(please note  - these bus times often change so use as a guide only)
The trip takes around one hour to cover the 35 kilometres distance and travels through some beautiful countryside scenery along the way, stopping at the small town of Kaki Bukit and passing by the large Timah Tasoh Lake. This is a really enjoyable bus ride and makes the whole trip worth the effort.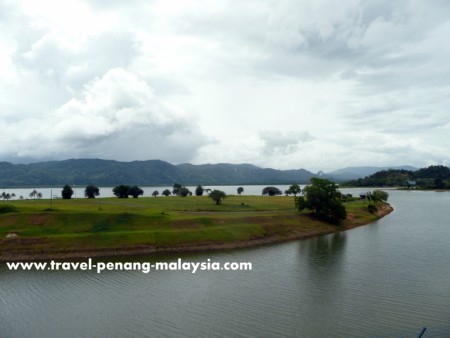 Timah Tasoh Lake
When you arrive in Padang Besar the bus stops just a few hundred metres form the border of Malaysia and Thailand pictured below.
More about crossing the border at Padang Besar
Pedang Besar Entrance to Border Crossing
After crossing the border you can continue your journey by local bus into Hat Yai.
When you come out from the passport control area, the bus stop is just to your right on the other side of the road.
For more information on the bus from Padang Besar to Hat Yai click here

Bus from Penang to Padang Besar
For those with less time, you can catch a bus from Penang Sentral bus station in Butterworth, straight to Padang Besar with Plusliner bus service.
They operate a bus from Penang to Padang Besar via Alor Setar, Kuala Perlis and Kangar daily at 09.00 and 14.00.
The trip takes around three and a half hours and costs RM15.80.
It is highly advisable to book this bus well in advance as it is often full taking people to the port of Kuala Perlis for boats to Langkawi.
If you are interested in travelling on this bus you can book tickets online here.

---
Related Links