Penang Road Hotels List (Jalan Penang) Georgetown, Malaysia

The many Penang Road Hotels offer you a great location in Georgetown and this is one of the most popular areas to stay in while in the city.
Upper Penang Road is the centre of Georgetown's entertainment area and is within walking distance to most of the Georgetown's tourist attractions as well as many restaurants, bars and clubs and shopping venues, making it a good choice for leisure travellers to Penang.
There is a good selection of hotels to choose from in this road and the surrounding side streets to fit any ones budget, from cheap guest houses to top luxury heritage accommodation.
Click on the hotels name to read guest reviews and check prices from all the major online hotel booking sites.

List of Penang Road Hotels and Nearby Accommodation

---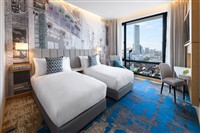 New Hotel near Penang Road opened in 2020 >

The OZO Hotel is a recently opened deluxe hotel located on Jalan Argyll, five minutes walk away from Penang Road. Read more...

---
---
Cititel Hotel Georgetown Penang - 4 Star
This popular deluxe hotel in George Town is located along one of Penang's main tourist areas, Penang Road and offers good quality accommodation in a good location.
This high-rise hotel has a total of 451 guest accommodations, located over 16 floors. Guest rooms at the Cititel Penang range from Standard Rooms, Superior Rooms to Deluxe Rooms, with a choice of either one King sized bed or two Twin beds.
All rooms are individually air-conditioned and come with a ceiling fan, TV with satellite channels and in-house movies, free broadband internet access, tea and coffee making facilities and a mini fridge.

---
See more of the best 4 star hotels in Penang here >>

---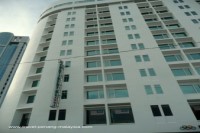 Hotel Continental Georgetown Penang - 3 Star
Located right on the corner of the road, just opposite the entertainment area on upper Penang road where you will find many bars in a pedestrianised area, the 3 star Continental Hotel Penang is a popular accommodation due to its great location close to both the city's nightlife and tourist attractions. Read more...

---
See more of the best 3 star hotels in Penang here >>

---
Hotel Malaysia Georgetown Penang - 3 Star
Located next door to the Continental Hotel, the 3 star Hotel Malaysia Penang is located on the Upper Penang Road in the heart of Georgetown's main entertainment area.

The hotel offers 126 guest accommodations from Standard (King sized bed), Superior (two single beds) to Deluxe Rooms (two double beds).

The hotel has an on-site restaurant, the Aberdeen Coffee House and Restaurant, massage parlour and Karaoke (KTV) Lounge.

---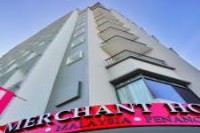 Merchant Hotel George Town Penang - 3 Star

This 3 star accommodation is directly located along Penang Road and was recently renovated (end of 2015) offering good value rooms for the location (close to the upper end of Penang Rd).
The property has a total of 96 guest rooms in either Executive or Deluxe types.

---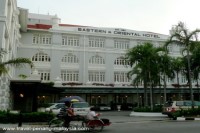 Eastern And Oriental Hotel Georgetown Penang - 5 Star
Located right at the end of Upper Penang Road opposite the pedestrian area of bars and clubs you will find Penang's most famous hotel, the E & O.
The iconic Eastern And Oriental Hotel Penang is the best place to stay if you are looking for accommodation with old colonial charm in the Unesco World Heritage City of George Town.

This top luxury Penang 5 star hoteloffers a range of large luxurious suites in either the Heritage Wing or Victory Annexe, many with wonderful views out over the sea. Read More...
---
See more of the best 5 star hotels in Penang here >>

---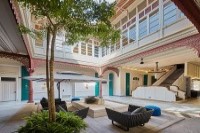 The Edison Hotel George Town Penang

The Edison Penang Hotel is a recently restored Heritage hotel located just a short walk away from Penang Road on Lebuh Leith and occupies a beautifully restored former Colonial mansion, that was once home to the old Cathay Hotel.

Since its days as the Cathay Hotel, the building has undergone an extensive restoration to bring it back to its former glory, as well as tastefully extending the original building.

This new addition to the growing list of luxury Heritage Hotels in Penang, opened its door to paying guests for the first time in July, 2016 and since then, has become one of the most highly rated places to stay in the old part of the city.

The Edison Penang Hotel offers guest accommodation ranging from Deluxe Rooms to Deluxe Premium Rooms and even more spacious Suites.

All guest accommodation comes with elegant furnishings offering luxurious comfort for the visitor.

Deluxe Rooms offer 19 to 33 Square Metres.

Deluxe Premium Rooms are 35 to 38 Sqm.

Suites are 58 to 61 Sqm.
---
See more of the latest hotel openings in Penang here >>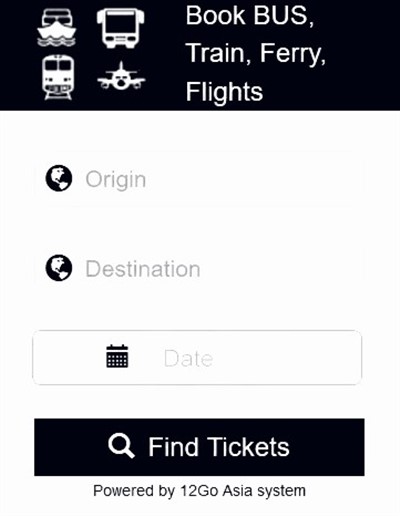 ---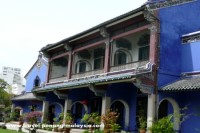 Cheong Fatt Tze Mansion (The Blue Mansion) Penang - 4 Star
Located just one street down from Penang Road, the Cheong Fatt Tze Mansion in Penang or "Blue Mansion" as it is often called, is one of the leading tourist attractions in Penang and one of the most famous heritage buildings in Georgetown.

It also doubles as a unique hotel accommodation, offering guests are rare chance to sample staying at one of the city's most elegant buildings .

Built in the 1880′s for the Chinese trading and shipping tycoon Cheong Fatt Tze and now restored back to it's former glory, the mansion offers 16 themed bedroom suites for guests to indulge in some old world charm.

If you can't quite afford to stay at the Blue Mansion by Samadhi, you can still visit on a fully conducted tour, which they run three times a day.

These tours are conducted in English, but private tours in other languages can be arranged.
---
See more of the best Heritage hotels in George Town here >>

---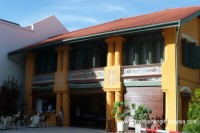 Yeng Keng Hotel Penang - 4 Star
The 4 star Yeng Keng Hotel is a small boutique hotel in Penang, set in a beautifully restored 19th century building along the famous Chulia Street in Georgetown and just a short walk to most of the tourist attractions in the old part of the city.

This quality Heritage hotel in George Town Penang offers just 20 rooms, from Mansion double rooms, Courtyard double, twin and family rooms to 4 suites, 1 garden suite, 2 Chulia suites and 1 top of the range Yeng Keng Suite.

The hotel has an outdoors swimming pool and peaceful gardens for guests to relax and enjoy.

All rooms are decorated with period style furnishing and are air conditioned.

In room facilities include free wireless internet connections, in-room safe deposit boxes, flat screen TV's with satellite channels, tea and coffee making facilities and free toiletries.

The Yeng Keng Café & Bar serves a mixture of western and Hainanese cuisine and the outside bar in the front of the hotel is a lovely place to stop for a drink in the evening, even if your not staying at the hotel (they often have good deals for happy hour drinks in the early evening).
---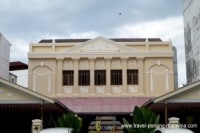 Banana Boutique Hotel  - 4 Star
Located a short walk from Penang Road along Chulia Street, the Banana Boutique Hotel in Georgetown Penang is a recently restored heritage hotel, offering good quality accommodation, right in the heart of Chinatown along Chulia Street.

Close by to the property, you will find all the tourist attractions in George Town within easy walking distance, as well as the popular nightspots along Upper Penang Road where you will find a good choice of bars, nightclubs, hawker food and restaurants.

The hotel offers a range of good sized rooms and also has its own open air restaurant and bar in the front of the hotel.

Free wifi internet is available at this Penang hotel.
---
See more of the best boutique hotels in George Town here >>

---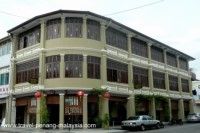 Campbell House Hotel Penang - 4 Star
A luxury boutique hotel located along the quieter Campbell Street, just a short walk from Penang Road, the Campbell House Penang is a stylish 4 star boutique hotel located on the corner of Campbell Street and Cintra Street in the heart of the old part of George Town.

This Penang boutique hotel offers just 12 traditional colonial style suites in a beautifully renovated former shophouse in the heart of China Town in Georgetown and within walking distance to the many tourist attractions in this old part of the city.

Guests of the hotel will also find many shops and restaurants in the area, especially along Penang Road, which is just a couple of minutes walk up the road.

Each of the beautiful rooms at the property are individually named and decorated with a mix of contemporary and antique furniture, en-suite bathroom with shower, cotton robes and luxury toiletries.

All the rooms are non-smoking and have a mini bar with some complimentary drinks, Nespresso machines, in-room safe box and complimentary wireless internet, which is available in guest rooms and throughout the property.

Located on the ground floor of the hotel is the authentic Italian Restaurant, Il Bacaro, which serves Venetian inspired pasta dishes, pizzas and much more, along with fine wines.

The hotel also has a guests only roof terrace.
---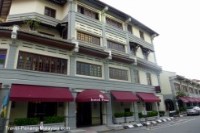 Hotel Penaga - 4 Star
Located a few minutes walk away down Jalan Hutton, the 4 star Hotel Penaga Georgetown Penang, is a boutique Heritage accommodation located just outside the core zone of George Towns's World Heritage City.
 
The property is made up of 15 pre WWII terrace houses and shophouses that have been converted to luxury accommodation with all the mod-cons, while keeping the character of these heritage buildings.

There are just 45 rooms at this Penang property, all decorated with individual style, with a mix of antique and more luxurious modern furnishings, as well as an ever growing collection of local arts and crafts.

Luxury bathrooms are all fitted with a Jacuzzi spa bath, as well as a separate shower.

Guests can choose from a range of accommodation from the 40 Sqm Hutton Rooms, 60 Sqm Penaga Suite, 60 - 70 Sqm Transfer Suites or enjoy the space of a whole house in the Clarke Terrace Houses.

Facilities at the property include a swimming pool, Spa, library and gardens. There is also an onsite restaurant, "The Cinnamon" and the "Tanglung Bar". 

---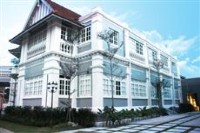 Deluxcious Heritage Hotel - 4 Star
The 4 star Deluxcious Heritage Hotel Penang occupies a beautiful old 19th century colonial house and offers just 18 luxury rooms and suites and is located close to Penang Road on Jalan Sultan Ahmad Shah..

Luxurious guest rooms range from the Superior rooms with a queen sized bed, to the slightly larger Deluxe rooms with a king sized bed.

Larger more spacious suites range from the Junior Suite with a king sized bed to Family Suites suitable for either 3 or 4 people.

These suites come with either two queen sized beds or 1 queen and 1 single bed.

Al rooms and suites are air-conditioned and come tastefully furnished and decorated in cream colours, with wooden flooring, luxurious fixtures and fittings and all the modern touches you would expect from a hotel of this class.

The property also boasts an on-site luxury spa where you can relax with a wide range of luxury beauty therapies or a Balinese massage.

There is also an on-site restaurant, The Deluxcious Restaurant, serving healthy, fine cuisine, lovingly prepared by an award winning chef.
---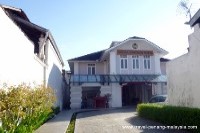 Chulia Heritage Hotel Penang - 3 Star
The Chulia Heritage Hotel in Georgetown Penang, offers good value rooms in a restored heritage house, in a great location set back from the road along Chulia Street in the heart of Penang's Chinatown, right in the centre of George Town's most popular tourist district.

The hotel offers a varied choice of accommodations to suit most budgets, with some cheap budget style rooms on the first floor that offer cheaper, more basic rooms with shared bathroom facilities, to the more luxurious ground floor rooms with en-suite bathrooms.

In total the property has 45 guest rooms.

Room types include:

Standard Rooms with a Queen sized bed.
Triple Rooms with one Queen and one Single Bed.
Family Rooms with two Queen sized beds.

The property is within easy walking distance to most of the city sightseeing attractions, restaurants and food courts, as well as the pubs and bars of Upper Penang Road, as well as many places along Chulia Street itself.

The hotel even offers free bicycles to guests to explore the city more.
---
See more hotels in Chulia Street here >>

---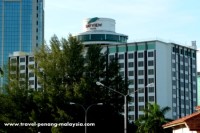 Bayview Hotel Georgetown Penang - 4 Star
This popular deluxe hotel is located on Farquhar Street, just a short walk away from Upper Penang Road pedestrian area and is a popular place to stay while in the city due to its location close to the night life area of Upper Penang Road and closeness to the tourist attractions of the city.

This large deluxe 4 star hotel offers a total of 340 accommodations and guests can choose from Standard Rooms, Superior Rooms, Deluxe Rooms, Grand Deluxe Rooms, Family Rooms and Junior Suites.

You can also choose to stay in one of the Premier Rooms or Suites located on the Premier Floors between floors 14 and 16. Staying here means you will have added benefits suah as access to the Premier Lounge, free breakfast, soft drinks and more...

The property features three on-site restaurants (including the famous Revolving Restaurant offering fine views over the city), an outdoor swimming pool with hot tub and a gym.

---
The Southern Boutique Hotel Georgetown - 3 Star
This new boutique hotel was recently opened towards the end of 2017.
The hotel is housed in a row of beautifully renovated shophouses and offers good value accommodation for it's location, right at the very top of Muntri Street, just a few metres away from Penang Road.
---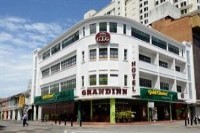 Grand Inn Penang Road - 2 star

A rare "budget hotel" actually located on Penang Rd offering good value guest accommodations for the location.
Rooms come in either: Standard, Twin, Double or Quad, as well as Double Decker rooms featuring bunk beds (sleeps two).

All rooms offer come with attached bathroom, individually controlled air-conditioning, free Wifi, LED TV with satellite channels and in-room tea and coffee making facilities.
The hotel features a roof garden and Gold Choice Lifestyle Cafe on the ground floor.

---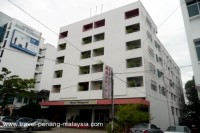 Hotel Mingood Georgetown Penang - 2 Star
A good budget hotel in Penang just off of Penang Road (five minutes walk) and popular with backpackers, the Hotel Mingood in Georgetown Penang Malaysia, offers affordable accommodation close to the heart of Georgetown's entertainment area of Upper Penang Road and is within 10 - 20 minutes walking of most of the tourist attractions in the old part of Georgetown.

This 2 star budget Georgetown hotel offers 50 air conditioned rooms with attached bathrooms, TV, fridge and also free wireless internet in all the rooms and common areas.

There is a small on-site restaurant at the hotel and you are also only a short walk to a wide variety of food outlets, with many restaurants, food courts and street food vendors offering a wide variety of cuisine, to suit both your taste buds and your wallet.

The hotel has a rooftop leisure garden where you can play pool and take in the view over a few drinks.
---
For more budget hotels in Georgetown click here >>

View the main Hotels page here >>
---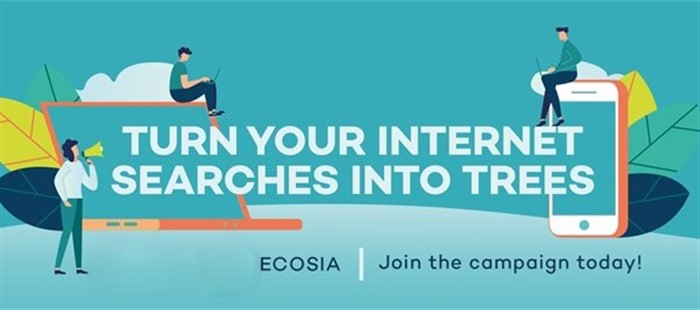 Ecosia - The Search Engine that Plants Trees >