Thai Embassy Penang
The Thai Embassy Penang or to give it it's proper name, The Royal Thai Consulate Penang is located in the suburbs of Georgetown and is not that easy to get to, unless you want to pay for a taxi.
If you planning to travel from Penang to Thailand for a period longer than 15 days and are not flying in (with an onward ticket), then you may want to get a Thai tourist visa.
---
---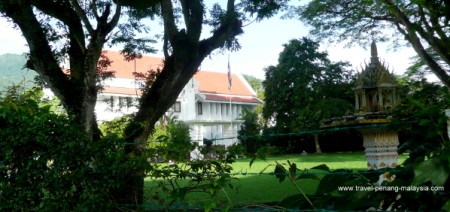 There are many places down Chulia Street and many guest houses that offer a Thai visa service and they will do all the hard work for you for around RM40.
If you do not like giving your passport over to a complete stranger, then you will have to go there in person.
From November 2013 citizens of G7 countries, the UK, USA, Japan, Germany, Italy, France and Canada can get a 30 day visa on entry at any land border.

For all other nationalities you can check you visa requirements at the
Opening Hours :
You have to apply in the morning between 09:00 and 12:00, then you can pick your passport up again the next day between 14:00 to 16:00.

The consulate is open from Monday to Friday, but closes on both Malaysian Public Holidays and Thai Public Holidays.
You will need 2 recent passport sized photos and a photocopy of the main page of your passport.
If you forget, there is usually a van parked outside that offers photocopying and passport photos, but it is much more expensive than what you would pay at a normal shop.
The fee for a 60 day Tourist Visa is RM 150 ( payable in Malaysian currency only ).
For other types of Thai visa (type "O", student visa etc) the processing time is also one day.
However, last time I checked there was not much information on the website and most of it was in Thai, so not much help really!
But it might have changed?
---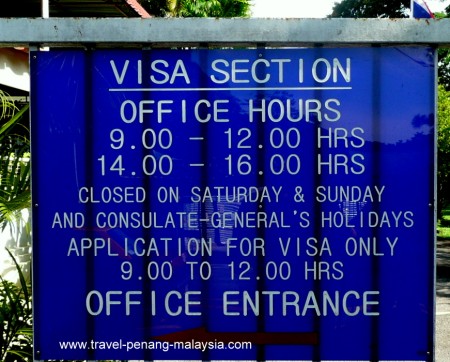 Address & Contact Details :

Thai Embassy Penang Address : No 1, Jalan Tunku Abdul Rahman, 10350 Penang, Malaysia.

Thai Embassy telephone number : 04 226 9484


---
How to get to the Thai Embassy Penang :
If you are on a budget and don't want to use a taxi there are a few options :
You could walk, but this could take between 1 and 2 hours depending on your speed and how many times you get lost.
Another way, would be to hire a motorcycle or bicycle for the day and do some sightseeing for the rest of the day.

Catch a bus and walk for about 20 minutes.
This is the way I've done it in the past.
Catch Bus 101 from the Jetty, Chulia Street or KOMTAR and ask the driver to let you off at Jalan Cantonment.
The bus will drop you off near to the Burmese Temple and Thai Reclining Buddha Temple.
Just walk up to the road for a minute or two and turn left onto Jalan Cantonment and follow the road until you get to Jalan Tunku Abdul Rahman, which will be on your right.
---
Location Map :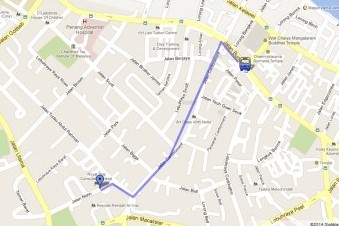 ---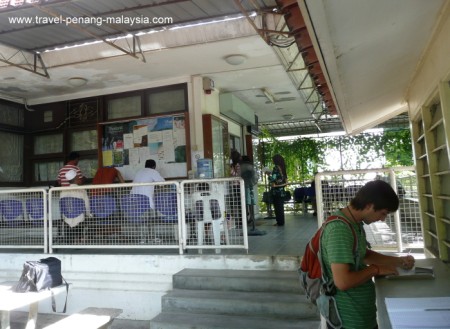 If you are in Penang just to get a Thai visa and are looking for hotels near the Thai Embassy Penang, the nearest hotels are along Jalan Burma. Try the 1926 Hotel or the Berjaya Georgetown Hotel
More pages on our site that may be of interest to you

How to Travel Between Penang and Thailand
Travel by Train from Penang to Hat Yai, Surat Thani, Chumphon & Bangkok

Travel options from Penang and Bangkok

Penang Island Tourist Attractions
---