Singapore to Langkawi Bus
(Bas Singapura ke Langkawi)
Information on the Singapore to Langkawi Bus - How to travel by bus / coach from Singapore to Langkawi Island, via Alor Setar (Kuala Kedah), Kuala Perlis or Butterworth and Penang.
On this page you can find the best ways to travel from Singapore to Langkawi by bus.
As there are no direct buses to the ports at Kuala Kedah or Kuala Perlis from Singapore, below you will find the best options: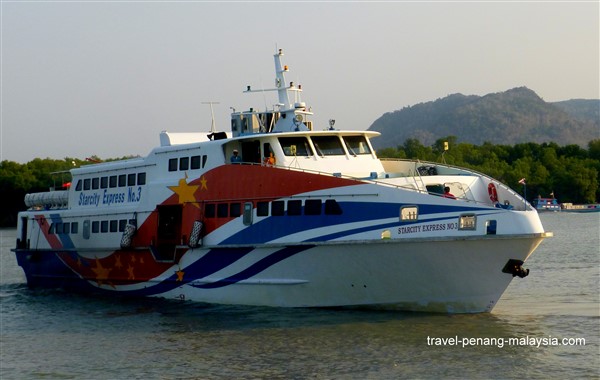 Langkawi ferry boat >
Singapore to Langkawi Bus via Alor Setar (for Kuala Kedah Jetty)

Bas Singapura ke Langkawi melalui Alor Setar (untuk Jeti Kuala Kedah)
There are just a few buses a day that will take you all the way from Singapore to Alor Setar, which is just 15 km from the port of Kuala Kedah, where ferries run throughout the daytime to Kuah on Langkawi island.

Buses operated by Sri Maju, Konsortium and 99 Coachland Express, leave from the Golden Mile Complex in Singapore and travel through the night to Alor Setar Shahab Perdana bus terminal.

Once in Alor Setar bus station (Shahab Perdana Bus Terminal) you can catch a cheap local bus to the ferry terminal at Kuala Kedah or take a taxi for around 15 - 20 RM.

One-way tickets for this route will cost around 42 SGD.

To book seats on these buses, visit our booking page here >

For information on the ferry times and fares from Kuala Kedah to Langkawi click on the timetable below: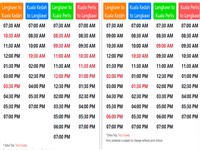 Ferry timetable from Kuala Kedah jetty to Langkawi >
Bus from Singapore to Butterworth or Penang
Bas dari Singapura ke Butterworth atau Pulau Pinang
If you catch a bus from Singapore to Penang or Butterworth on the mainland, you can then either:

Catch one of the daily boats from George Town to Langkawi >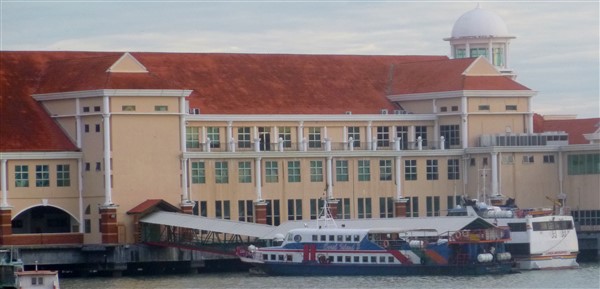 Georgetown Penang to Langkawi ferry >
Connect to one of the many buses or cheap KTM Komuter trains from Butterworth to Alor Setar >

Take a KTM Komuter train to Arau, then a taxi or bus to Kuala Perlis Jetty.
Or catch a much less frequent (and often full - so advance booking is required) bus up to Kuala Perlis from Butterworth.

For more information on travel from Penang to Langkawi click here >

Travel from Singapore into Malaysia and take a bus from Johor Bahru

Perjalanan dari Singapura ke Malaysia dan menaiki bas dari Johor Bahru
As buses are cheaper if you leave Singapore and book them in Malaysia, you would be better off if you cross over into Malaysia first and catch a bus from Johor Bahru's JB Larkin bus terminal (Larkin Sentral).
There is also a larger choice of departures from JB.

Johor Bahru to Kuala Perlis Bus

Bas Johor Bahru ke Kuala Perlis
You can catch a bus from JB Larkin direct to the port of Kuala Perlis.
Buses from here will cost around 80 RM + and will get you to the ferry port without the need of further transport.
Ferries from K.Perlis are the cheapest as this is the shortest distance from the mainland to Langkawi.
Bus companies that operate this route include City Express, Konsortium Bas Ekspres and Qistna Express.

To book your tickets online click here >

Once you arrive at Kuala Perlis bus station it is just a few minutes walk to the jetty / ferry terminal.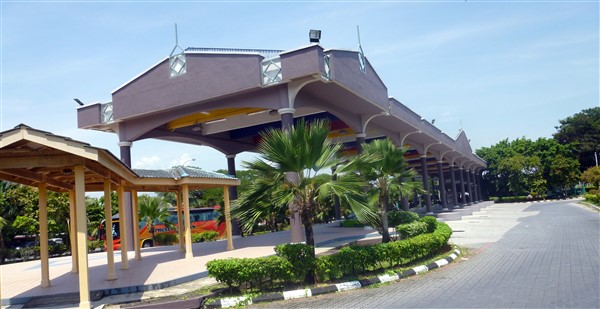 Kuala Perlis bus station
For information, departure times and ticket prices for the ferry to Langkawi from Kuala Perlis click on the timetable link below: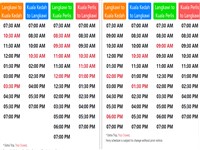 Ferry departure times from Kuala Perlis to Langkawi >
Johor Bahru to Alor Setar Bus (for Kuala Kedah Jetty)

Bas Johor Bahru ke Alor Setar (untuk Jeti Kuala Kedah)

Alor Setar bus terminal
Buses operated by companies such as City Express, Konsortium Bas Ekspres, Qistna Express and Sri Maju, leave from JB Larkin bus terminal for Alor Setar throughout the day and night, although it is best to catch a night bus so you can then connect with the early morning ferries.
Costs for this route start at around 70 RM so are quite a bit cheaper than those leaving from Singapore.

To book tickets on these buses click here >

---
---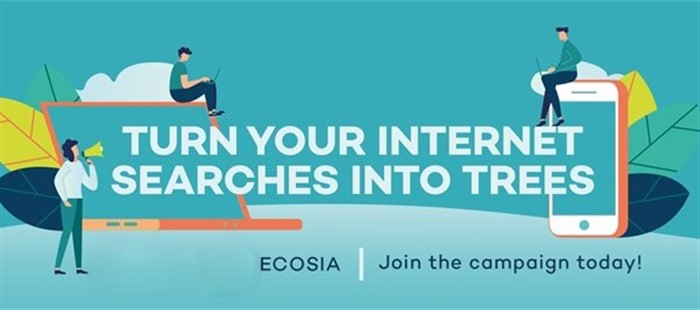 Ecosia - The Search Engine that Plants Trees >